Perry, Matthew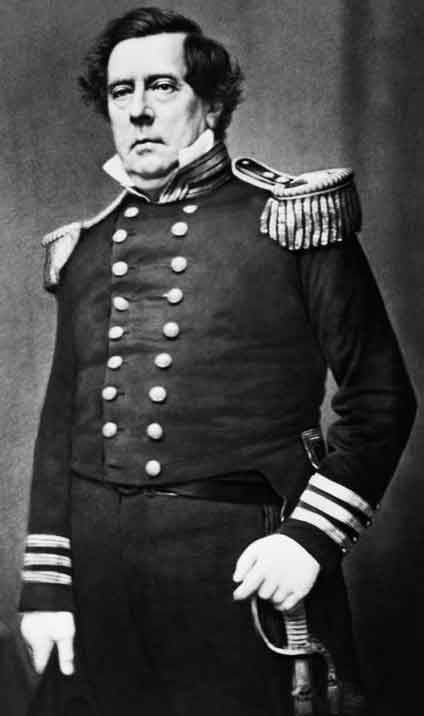 Naval Officer
(1794-1858)
Born on April 10, 1794, in South Kingstown, Rhode Island, Matthew Calbraith Perry entered the navy as a midshipman in 1809, serving under the command of his brother, Oliver Hazard Perry. His duties on various ships,
including the President and the United States during the War 1812, took him to the Mediterranean, Africa, and Russia, where the Czar offered him a post in the naval service. Then, in 1833, he was appointed second officer of the New York navy yard, a position he held until 1837.
That same year, Congress adopted Perry's plan for a naval apprentice system (first formulated in 1824) to help train new men. In addition, he was a strong proponent of modernization of the navy, and organized the first corps of naval engineers. After gaining the rank of commodore, he assumed command of the African squadron (1843-45), the principle duty of which was to suppress the slave trade. And then during the Mexican War, he commanded the expedition that captured Frontera, Tabasco, and Laguana (1846). A year later, in March 1847, he supported General Winfield Scott's attack on Veracruz.
In 1852, however, he sailed to Japan in order to negotiate a treaty with that nation. Arriving at Yedo Bay (now Tokyo Bay), in July 1853, he demanded that the Japanese behave towards Americans in a manner which is courteous and accommodating. On March 31, 1854, the Japanese signed a treaty, providing for hospitable treatment of shipwrecked sailors and for fueling and supply privileges at two Japanese ports.
A year after Perry's return to the United States, his report of his mission was published in three volumes as, Narrative of the Expedition of an American Squadron to the China Seas and Japan. He died in New York City.