Mott, Lucretia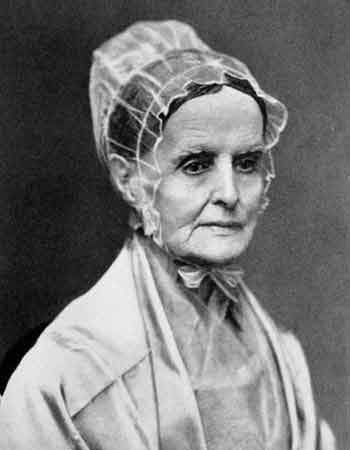 Coffin Social Reformer
(1793-1880)
Lucretia Coffin was born on January 3, 1793, in Nantucket, Massachusetts. She entered the Nine Partners Boarding School, a Quaker academy near Poughkeepsie, New York, in 1806; and after two years of study, began to teach there.
In 1811, she married James Mott, a fellow teacher from the school. About 1818, she began speaking at Quaker meetings, with such fervor, that she was immediately accepted as a minister of the Society of Friends.
With the great Quaker split of 1827, she reluctantly sided with the liberal Elias Hicks, and thereafter remained a champion of intellectual freedom and practical righteousness. In 1833, she participated in the founding of the American Anti-Slavery Society, and led in organizing the Philadelphia Anti-Slavery Society.
Although she was one of the three original members of the executive committee of the American Anti-Slavery Society, she was refused a seat as delegate to the 1840 world antislavery convention in London. She reacted to this sexual discrimination, by joining with Elizabeth Cady Stanton to organize the first woman's rights convention at Seneca Falls, New York (1848).
Then, after the Fugitive Slave Law was adopted in 1850, she and her husband opened their home to runaway slaves. And when the Civil War began, Mrs. Mott worked hard to support the Union, despite her pacifism.
In her later years, she continued to work for liberal religious causes, temperance, women's rights, and world peace. She died on November 11, 1880 in her home outside Philadelphia.