Benjamin Lundys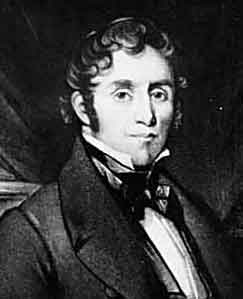 Abolitionist
(1789-1839)
Born to a Quaker family on January 4, 1789, in Hardwick, Sussex County, New Jersey, Lundy was raised on a farm in a Quaker household. After receiving a meager education, he went to Wheeling, Virginia (now part of West Virginia) to became an apprentice saddle-maker. However, he quickly came to dislike the city as he came into contact with the evils of the slave trade. Moving to St. Clairsville, Ohio in 1815, Lundy organized an antislavery group, the Union Human Society.
After spending the next two years in St. Louis liquidating his saddle business, he continued agitating for the antislavery cause. Finally, at Mt. Pleasant, Ohio, (1821), he began the Genius of Universal Emancipation, an antislavery paper which he published in Greenville, Tennessee, (1821-24) and later moved to Baltimore (1824).
While on a lecture tour of the North in 1828, he met William Lloyd Garrison and persuaded him to serve as associate editor of the Genius. However, Lundy was forced to move on to Washington, D. C., and between 1830 and 1835, the paper appeared irregularly from various places.
Lundy began publishing a new antislavery newspaper in Philadelphia in 1836, the National Enquirer and Constitutional Advocate of Universal Liberty, which attacked the annexation of Texas as a plot of slave owners to gain more power. Also, he helped John Quincy Adams, in the latters campaign to prevent Texas from becoming a state.
Declining health forced Lundy to sell the National Enquirer in 1838 to John Greenleaf Whittier, and the paper was renamed the Pennsylvania Freeman. Lundy died on August 22, 1839 in Hennepin, Illinois.