Garrison, William Lloyd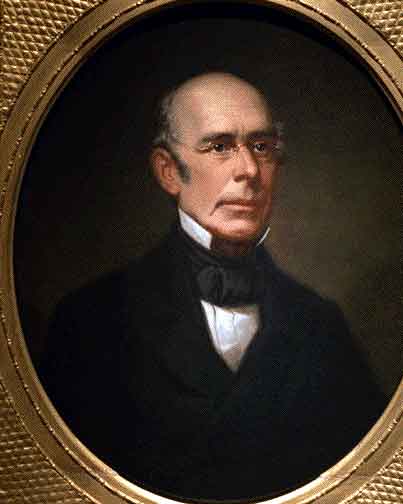 Abolitionist, Social Reformer, Journalist
(1805-1879)
Born in Newburyport, Massachusetts on December 12, 1805, William Lloyd Garrison received little education and began working at an early age.
As a teenager, he became an expert compositor while working in the office of the Newburyport Herald, often contributing anonymously to its columns. Then, in 1826, he became editor of the local Free Press, and later, in 1828, edited briefly the temperance journal National Philanthropist in Boston. Garrison joined with Benjamin Lundy the following year to publish the Baltimore monthly Genius of Universal Emancipation. A libel suit arising from a statement in the paper, however, led to Garrison's imprisonment for a period of seven weeks.
By this time, he was determined to fight slavery and the temporizing American Colonization Society. On January 1, 1831, he presented the first issue of The Liberator. With his famous statement, "I am in earnest-I will not equivocate-I will not excuse-I will not retreat a single inch-and I will be heard," he started his battle for complete and immediate emancipation.
Nevertheless, he favored peaceful methods, and chose to use moral pressure and the mobilization of public opinion to bring an end to slavery. Garrison participated in the organization of the New England Anti-Slavery Society (1832) and the American Anti-Slavery Society (1833). Despite his peaceful approach, however, he himself was often in danger from advocates of slavery. The state of Georgia, for example, offered a $5000 reward for his arrest and conviction; and at a Boston abolitionist meeting (1835) Garrison was attacked and almost killed by a mob.
Equality for women was also one of his main concerns. In fact, the exclusion of women from the 1840 World's Anti-Slavery Convention in London caused him to boycott the meeting. The following year he became the president of the American Anti-Slavery Society, remaining at this post for 22 years.
During the 1850's, Garrison favored peaceful separation of North and South; an intense dislike, though, for the proslavery clauses of the Constitution led him in 1854 to burn a copy of the document in public.
When the Civil War began, he came to support Abraham Lincoln. After the war, he continued his efforts as a reformer, pressing for prohibition, women's suffrage, and better treatment of Native Americans. Garrison died on May 24, 1879, in New York City.