Young, Bringham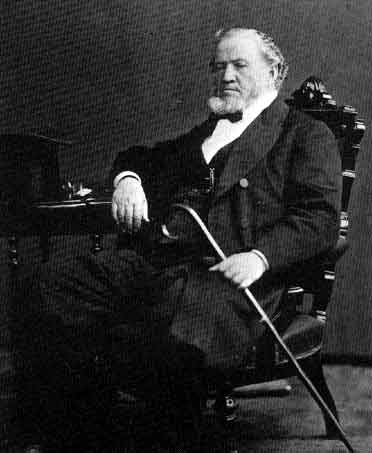 Religious Leader
(1801-1877)
Born in Whitingham, Vermont, on July 1, 1801, Young received only a few months of formal schooling. After reading Joseph Smith's, The Book of Mormon (1830), and spending a period in contemplation, he was baptized into the Church of Jesus Christ of Later-Day Saints in 1832. The following year, he led many successful tours for the church, and took a band of converts to Kirtland, Ohio.
Rising rapidly in the Mormon Church hierarchy, he became the senior member of the Quorum of the Twelve Apostles in 1838. Young was a chief figure in the founding of Nauvoo, Illinois (1839) ; and in the following year he did much to strengthen his church by establishing a mission in England.
When Joseph Smith, a leader of the Mormon Church, was killed in 1844, Young took over leadership of the church. Increasing pressurefrom unfriendly neighbors soon forced him to take most of the Saints out of Illinois. He and his followers eventually settled throughout Utah, with Salt Lake City as their base. A highly competent leader in the church, he dictated many of the details of the settlement; and the communities which developed there grew and prospered.
After Congress changed the Mormon's provisional state to the Territory of Utah in 1850, Young became governor of the area. However, the Mormon practice of polygamy and the church's rising economic power led President James Buchanan to remove Young from power in 1857. Young continued as president of the Mormon church, and his keen foresight throughout the rest of his life helped establish the Mormons securely and permanently in Utah.
.