Truth, Sojourner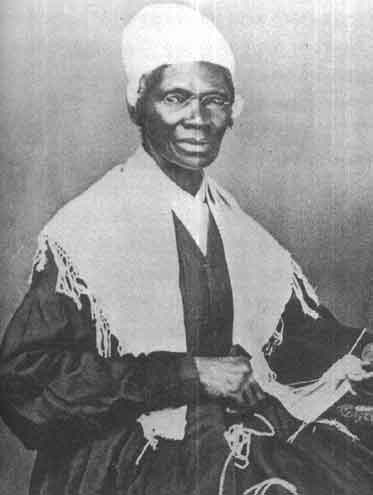 Abolitionist, Evangelist and Reformer
(1797-1883)
Historians believe that Sojourner Truth was born in 1797 in Ulster County, New York. Although born into slavery, she was freed from slavery by the New York State Emancipation Act of 1827.
She retained her former master'ís surname, Van Wagener. However, after settling in New York City for some time, she found that she was disillusioned with her life there. In 1843, she adopted a new name, Sojourner Truth, a name she felt God had given her. Her mission in life, decided, was to travel across the country and spread "the truth." She felt compelled to go on lecture tours, explaining: "The Lord has made me a sign unto this nation, and I go round a-testifying and showiníng them the sins agin my people."
Large crowds gathered to hear her; and her usual opening, "Children, In talk to God and God talks to me!" had an electric effect on her audiences in Connecticut, Massachusetts, Ohio, Indiana, Illinois, and Kansas. Many felt she possessed "mystical gifts" as well as great powers of oratory.
With much passion, she fought against slavery and for woman suffrage, becoming friendly with some of the leading white abolitionists of her time, including James and Lucretia Mott and Harriet Beecher Stowe.
Helping blacks who had managed to escape North find work and a place to live also gave her deep satisfaction during these years; later, in 1864, she was appointed counselor with the National Freedmens Relief Association.
When the Civil War started, she raised money to buy gifts for then soldiers and went to army camps to distribute the gifts herself.
After the war, Sojourner Truth campaigned for better educational opportunities for her people. Her "Narrative" was published in 1875, and recounts her war experiences as well as a meeting with Abraham Lincoln.
Truth died on November 26, 1883, in Battle Creek, Michigan.