Stanton, Elizabeth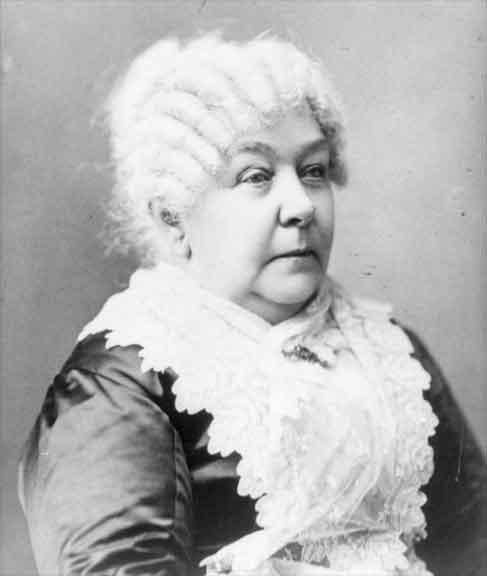 Social Reformer
(1815-1902)
Born on November 12, 1815, in Johnstown, New York, Elizabeth Cady studied at the Johnstown Academy and attended Emma Willards Troy (N. Y.) Female Seminary (1830-32). She briefly studied law with her father, but soon became interested in reform, especially the elimination of injustices to women.
In 1840 she married Henry Brewster Stanton, a prominent abolitionist, insisting that the word "obey" would be dropped from the ceremony. And later that year, she attended the World s Anti-Slavery Convention in London; but along with other women delegates, she was denied recognition because of her sex.
With Lucretia C. Mott she organized the first womens-rights convention in Seneca Falls, New York, in 1848; and this launched the womens-rights movement in the United States. From 1851 she worked closely with Susan B. Anthony; together they remained active for 40 years, planning campaigns, speaking before legislative bodies, and addressing gatherings in various settings. By 1860 New York laws had been amended giving women
joint guardianship of their children, the right to sue in court, and to own real and personal property.
Although a pacifist, Mrs. Stanton felt the Civil War was necessary in order to end slavery and formed the Women's Loyal League in 1863 to support the Union. After the war, she returned to the womens suffrage movement, editing and writing militant articles for the Revolution (1868-1870), a womens-rights newspaper.
Chosen first president of the National Women Suffrage Association in 1869, she spent the next several years lobbying for a constitutional amendment. In 1890, after presiding over the association for over 30 years, she was elected first president of the new National American Woman Suffrage Association.
A prolific writer, she produced the first three volumes of History of Woman Suffrage (1881-86) with Susan B. Anthony and Matilda Gage and published an autobiography, Eighty Years and More, in 1898. She died in
New York City on October 26, 1902.