Santa Ana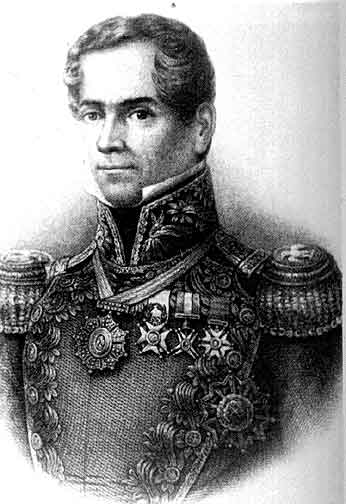 Mexican General, Revolutionist,
President, and Dictator
(1794-1876)
Born in 1794, in Jalapa, Mexico, Santa Anna led revolts against Iturbide (1822), against Guerrero (1828) and against Bustamante (1832). While president of Mexico (1833-36), he attempted to crush the Texan Revolution, seizing the Alamo in 1836. However, he was defeated and captured by Sam Houston at San Jacinto on April 21, 1836.
In 1844 he was made dictator of Mexico only to be deposed and exiled the following year. Interestingly he was recalled and made provisional president in 1847. Although a capable commander, he was not able to defeat the U. S. army during the Mexican War (1846-48), but was himself defeated at Buena Vista, Cerro Gordo, and Puebla. In his remaining years, Santa Anna sometimes was in power and at other times in exile. He died in poverty and neglect in Mexico City in 1876.