Grimke, Sarah - Emily Angelina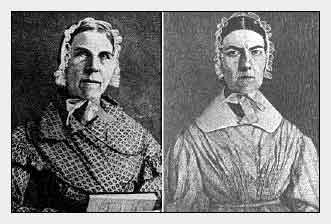 Grimke, Sarah Moore (1792-1873) and Angelina Emily (1805-1879)
Social Reformers
Born in Charleston, South Carolina, Sarah on November 26, 1792, and Angelina on February 20, 1805, the Grimke sisters early developed an antipathy towards both slavery and unequal treatment of women. Unable to tolerate life in a slave society, Sarah moved to Philadelphia in 1821, and two years later, joined the Society of Friends. Angelina followed and in 1829 also became a Quaker. Then in 1835, when William Lloyd Garrison published in the Liberator a letter she had written him in sympathy with his views, she became publicly linked with the abolitionist cause. Over the next two years, her pamphlets, Appeal to the Christian Women of the South (1836) and Appeal to the Women of the Nominally Free States (1836) were widely distributed by the American Anti-Slavery Society. Similarly, Sarah published An Epistle to the Clergy of the Southern States (1836), which provided a refutation of the proslavery Bible argument.
The two soon began to address small groups of women in private homes;
and this practice grew into the first appearances of women speaking publicly before large audiences on the issue of slavery. However, the General Association of Congregational Ministers of Massachusetts strongly
denounced women preachers and reformers; and the sisters consequently began to crusade equally hard for women's rights. They asserted the rights of women in a few vigorous pamphlets: Angelina Grimke's Letters to Catherine Beecher (1837) and Sarah Grimke's Letters on the Equality of the Sexes (1837), and the Condition of Women (both 1838).
After Angelina married the abolitionist, Theodore Dwight Weld (1838), the two sisters retired from public activity. Sarah died in Boston, Massachusetts on December 23 1873; and Angelina died there on October 26, 1879.