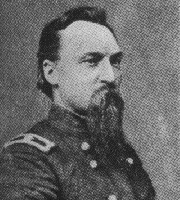 VITAL STATISTICS
BORN: 1829 in Ross County, OH.
DIED: 1869 in Indianapolis, IN.
CAMPAIGNS: Shiloh, Stone's River, Occupation of Chattanooga, Chickamauga, Missionary Ridge, Atlanta and Franklin.
HIGHEST RANK ACHIEVED: Brigadier General.

BIOGRAPHY
George Day Wagner was born in Ross County, Ohio, on September 22, 1829. His family moved to Warren County, Indiana when Wagner was a young man, and he attended public schools. Working as a farmer, he was elected as a Republican member of the state House of Representatives in 1856. In 1860, he was elected to the state Senate, and was president of the Indiana State Agricultural Society until the Civil War began. Wagner joined the Union military in June of 1861, and eventually led a division in the Army of the Cumberland at the Battle of Stone's River. Promoted to brigadier general to rank from November 29, 1862, he led a division from Maj. Gen. Rosencrans' occupation of Chattanooga in September of 1863 to the Battle of Chickamauga. He later fought at Missionary Ridge, where his forces sustained heavy losses. Wagner also served in the Atlanta Campaign and the Franklin and Nashville Campaign. In the Battle of Franklin, Wagner diverged from his orders, action which resulted in the Confederates penetrating the Union center. Wagner asked to be relieved from duty, with the stated reason that he was concerned about his wife's health. He returned to Indiana, and received confirmation of his request in August of 1865. Setting up a legal practice in Williamsport, Indiana in 1866, he became president of the Agricultural Society again, and died in Indianapolis, Indiana, on February 13, 1869.