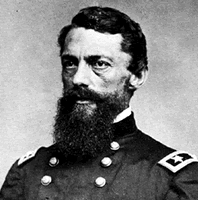 VITAL STATISTICS
BORN: 1822 in Busti, NY.
DIED: 1894 in Buffalo, NY.
CAMPAIGNS: Peninsula, Fredericksburg, Chancellorsville, Atlanta, Stoneman's Raid (Southwestern Virginia), Stoneman's Raid (North Carolina and Virginia).
HIGHEST RANK ACHIEVED: Major General.

BIOGRAPHY
George Stoneman was born on August 22, 1822, in Busti, New York. After graduating from West Point, he fought in the Mexican and Indian Wars. He was promoted to brigadier general on August 13, 1861, several months after the Civil War began. Commanding a division in the Peninsula Campaign, he was promoted to major general to rank from November 29, 1862. Stoneman led a corps at Fredericksburg, but was relieved of command for poor leadership in the Chancellorsville Campaign. He remained in the Cavalry Bureau in Washington until 1864, when he was placed in command of a division in the Atlanta Campaign. Captured in a joint raid with Brig. Gen. Edward M. McCook, he was released in time to command a raid through southwestern Virginia in December of 1864. In March of 1865, Stoneman led raids across southern Virginia and western North Carolina. After the Civil War ended,, Stoneman remained in the Regular Army, and retired in 1871. He moved to California, where he was elected governor (1883-1887). Stoneman died in Buffalo, New York, on September 5, 1894.