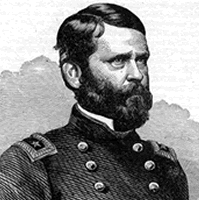 VITAL STATISTICS
BORN: 1823 in York, PA.
DIED: 1903 in Hartford, CT.
CAMPAIGNS: Fredericksburg and Red River Campaign.
HIGHEST RANK ACHIEVED: Brigadier General.
BIOGRAPHY
William Buel Franklin was born on February 27, 1823, in York, Pennsylvania. He graduated at the top of his class at West Point in 1843, the same class in which Ulysses S. Grant graduated. Franklin was appointed an engineer, and served with distinction in the South Pass Expedition and the Mexican War, under Col. Philip Kearny. Right before the Civil War, Franklin was assigned to oversee the construction of a new dome for the Capitol in Washington, D.C. On May 17, 1861, he was appointed a brigadier general. Franklin led two corps at the Battle of Fredericksburg in 1862, and Maj. Gen. Ambrose E. Burnside blamed him for the Union failure there. The Committee on the Conduct of the War sided with Burnside, for political reasons, and Franklin was taken off duty for over five months. In the summer of 1863, Franklin was assigned corps command in the Department of the Gulf. His participation in Maj. Gen. Nathaniel P. Banks' unfortunate Red River Campaign further tarnished Franklin's reputation. Although Gen. Grant requested his services, Franklin was unable to take part in active campaigning in 1865 because of his disability and official disapproval. After the Civil War, Franklin was an executive of the Colt Fire Arms manufacturing Company, serving for 22 years. In that capacity, he displayed excellent skills as an engineer and administrator. He was an elector in the 1876 Presidential election, as well as commissioner general at the 1888 Paris Exposition. Franklin died in Hartford, Connecticut on March 8, 1903.