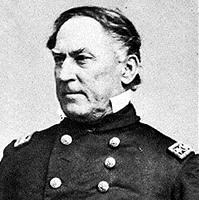 VITAL STATISTICS
BORN: 1801 in Campbell's Station, TN.
DIED: 1870 in Portsmouth, NH.
CAMPAIGNS: Fort Jackson and St. Philip (New Orleans), Mobile Bay and James River.
HIGHEST RANK ACHIEVED: Vice Admiral.

BIOGRAPHY
David Glasgow Farragut was born in Campbell's Station, Tennessee on July 5, 1801. He was adopted by Comdr. David D. Porter, and was heavily influenced by him. In 1810, Farragut was commissioned a midshipman, and served under Porter in the War of 1812. At the age of 12, Farragut was a prize master, and he rose through the ranks to become a captain in 1855. Farragut was living in Virginia when, in 1861, the state seceded from the Union. Because of his loyalty to the Union, he moved north. There, his loyalty was initially questioned. In December of 1861, however, Navy Secretary Gideon Welles placed him in command of the West Gulf Blockading Squadron. Farragut was also ordered to capture New Orleans; after Farragut's fleet passed the forts, the city surrendered, on April 25, 1862. This victory led to Farragut's promotion to rear admiral on July 16, 1862, as well as his receipt of a letter of thanks from Congress. In the summer of 1862, he was unable to capture Vicksburg, and was also unable to overcome Mobile by blockade in 1863. Ordered to capture Mobile, Farragut took months to plan his operation, and finally began the Battle of Mobile Bay on August 5, 1864. The waters of the bay were heavily mined, and the Union fleet hesitated when the "Tecumseh" was sunk by a torpedo. It was then that Farragut made his famous proclamation: "Damn the torpedoes! Full steam ahead!" The Confederate-held Fort Morgan surrendered on August 23, 1864, and Farragut had won his greatest victory. He was then promoted to vice-admiral. His health deteriorated, and Farragut could not take part in later campaigns, although he recovered enough to be present on the James River early in 1865. After the Civil War, Farragut was promoted to full admiral, and commanded the European Squadron in 1867 and 1868. He died in Portsmouth, New Hampshire, on August 14, 1870.