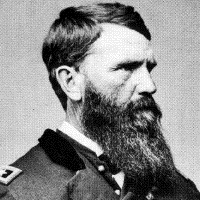 VITAL STATISTICS
BORN: 1821 in Lexington, KY.
DIED: 1875 in St. Louis, MO.
CAMPAIGN: Chickasaw Bluffs, Vicksburg, Chattanooga, and March to the Sea.
HIGHEST RANK ACHIEVED: Major General.
BIOGRAPHY
Francis Preston Blair, Jr., was born in Lexington, Kentucky, on February 19, 1821. His father was an influential newspaper editor and advisor to Presidents Jackson and Lincoln. Young Blair studied at the College of New Jersey (now called Princeton), obtained a law degree at Transylvania College in Kentucky, and served briefly as attorney general of New Mexico Territory in 1847. During a trial in New Mexico Territory, he came into conflict with military governor Sterling Price. Price later became one of Blair's major political adversaries in the struggle to keep Missouri part of the Union. Blair was elected a Missouri Congressman. In the Camp Jackson affair of 1861, he joined Brig. Gen. Nathaniel Lyon to win the St. Louis arsenal from Confederate control. During the summer of 1862, Blair recruited seven regiments, and was commissioned a brigadier general in the US Army on August 7 of that year. A major general by November of 1862, he led a division on the Yazoo Expedition. Maj. Gen. William T. Sherman praised him for his success at Chickasaw Bluffs, an early event in the Vicksburg Campaign. When Lt. Gen. John C. Pemberton surrendered Vicksburg to Maj. Gen. Ulysses S. Grant, Blair was commanding the Union line north of the city. During the Battle of Chattanooga, Blair led the XV Corps, later commanding the XVII Corps during Sherman's approach toward Atlanta. After the fall of Atlanta, Blair led his corps in the "March to the Sea." He was in Goldsborough, North Carolina when he learned that Confederate Gen. Robert E. Lee had surrendered. Although both Generals Grant and Sherman often criticized "political" generals, they praised Blair was one of the best military leaders in the war. In 1868, Blair became the Democratic nominee for Vice-President in 1868, and was appointed to the Senate to fill a term in 1871. He died in St. Louis, Missouri, on July 9. 1875.