Lewis, Francis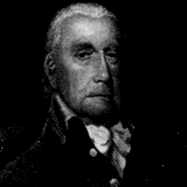 The only child of a minister, Francis Lewis was born in Wales in 1713. He lost his parents when he was quite young, however, and was raised by relatives. He received his education at London's Westminster School and was later employed in one of the city's firms. By 1738 he had decided to set up his own business and established branches in both New York and Philadelphia. In the years that followed, he traveled between the colonies and London. During the French and Indian War, he was held captive by the French in France, but upon his release the British government awarded him a large piece of land in New York as compensation. He thus returned to the colonies to pursue business and made a fortune. In 1765 he moved to Long Island.
Lewis was a strong supporter of the Revolutionary movement to which he dedicated a large amount of time and energy. In 1765 he attended the Stamp Act Congress. In addition, he was probably a leader of the New York Sons of Liberty. In 1774 he attended New York's provincial convention and helped to set up the state government. Lewis attended the Continental Congress from 1775 until 1779. He was active on several committees during this time, including those engaged in marine and commercial activities. On August 2, 1776 Lewis signed the Declaration of Independence despite orders coming from New York's Tory government to do otherwise.
When the British landed at Long Island later in 1776, Lewis' home was ruined and his wife taken prisoner. She was later given her freedom in exchange for the release of British women held by the colonies, but the strain of the whole incident caused her to die about three years later. Lewis was devastated and immediately left the Congress. In 1781 he retired from politics for good. He passed away in 1802, at the age of eighty-nine and was buried in Trinity Church's graveyard in New York City.