August 25th Paris Liberated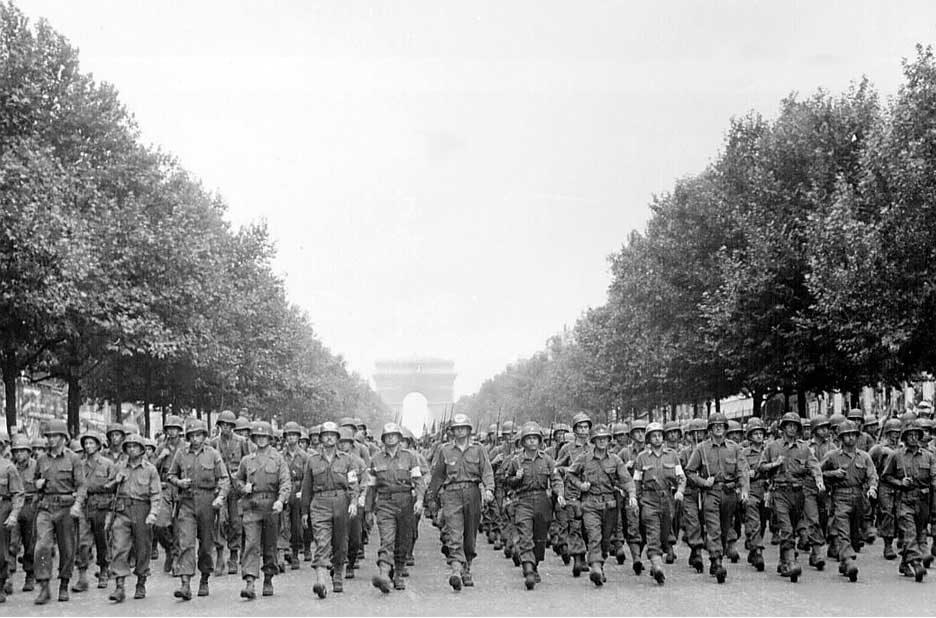 The U.S. 28th Infantry Division on the Champs Élysées in the "Victory Day" parade on 29 August 1944.
Allied forces led by the French Second Armored Division, commanded by Major General Lecleric, liberated Paris on August 25th. The liberation of Paris was hastened by an open rebellion by Parisians against the Nazis in the days leading to the liberation. The next day, US and British forces entered the city and were greeted by quite an emotional welcome.
Operation Anvil the invasion of Southern France was initially planned to take place at the same time as the landing at Normandy, however the lack of sufficient shipping made that impossible. The Allies however, found that the port capacity in Normandy was not sufficient thus the idea of invading Southern France was revived. The French wanted to be in the vanguard of this assault.
Before the main invasion could take place the islands of Port-Cros and Levant with their gun emplacement had to be captured, A joint American / Canadian unit the First Special Service Force attacked the islands on August 14th. By the 16th both islands had been conquered.
On the morning of the 15th the main landings began. From 6:00 and until 7:30 1,300 Allied planes bombed targets and at 7:30 the naval forces joined in. At 8:00 the landing began. The landings were overwhelmingly successful with only 95 killed and 385 wounded. The Allies had overwhelming fire power and the German troops were not their best troops. After two days of fighting it was clear that the German would be unable to stop the Allies and German troops were ordered to withdraw. The Germans however were not able to withdraw fast enough. Allied troops were able to race after the German cutting off their defense line. The French captured Toulon capturing 18,000 Germans there. The French captured Marseille on August 28th capturing an additional 11,000 German troops.

American troops moved north with the rapidly retreating German army. The Americans caught up with the German at Montelimar by August 21st. The Americans did not have enough troops to fully cut off the Germans but the Germans could not clear the Americans from their path. Most of the German managed to slowly breakthrough and escape. By August 29th the Allies captured the area and closed off the final German escape routes.

The Germans withdrew from France. By the end of the campaign the Americans had 15,574 including 7,301 killed. The Germans had 7,000 killed, 21,000 wounded and 131,250 capture.
---