USS Tenessee AC-10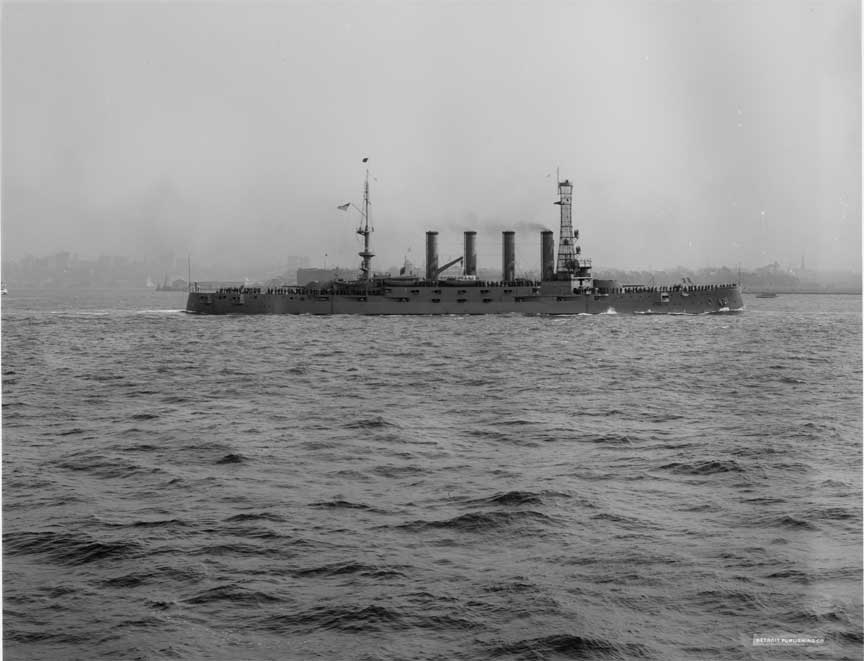 Tennessee IV
(Armored Cruiser No. 10: dp. 13,712 (f); l. 504'6"; b. 72'10Y2", dr. 25'0" (mean), s. 22.16 k., cpl. 887, a. 4 10", 16 6'', 22 3", 4 3-pdrs., 4 21" tt.; cl. Montana)
The fourth Tennessee (Armored Cruiser No. 10) was laid down by the Cramp Shipbuilding Co., Philadelphia, Pa., on 20 June 1903, launched on 3 December 1904; sponsored by Miss Annie K. Frazier, daughter of Governor James B. Frazier of Tennessee and subsequently the foundress of the Society of Sponsors of the United States Navy, and commissioned at the Philadelphia Navy Yard on 17 July 1906, Capt. Albert O. Berry in command.
The new armored cruiser departed Hampton Roads, Va., on 8 November 1906 as escort for Louisiana (Battleship No. 19) in which President Theodore Roosevelt had embarked for a cruise to Panama to check on the progress of work constructing the Panama Canal. After a brief visit to Puerto Rico on the return voyage, the warships arrived back at Hampton Roads on 26 November. Tennessee was present for the Jamestown Exposition held from 7 to 11 June 1907 to commemorate the tricentennial of the founding of the first English settlement in America.
On 14 June, Tennessee sailed for Europe and reached Royan, France, on the 23d for duty with the Special Service Squadron. She returned home in August but departed Hampton Roads on 12 October for the Pacific.
Tennessee then patrolled off the California coast until 24 August 1908 when she sailed for Samoa, arriving at Pago Pago on 23 September to resume service with the Pacific Fleet. On 15 May 1910, she arrived at Bahia Blanca to represent the United States at the centenary celebration of the independence of Argentina. On 8 November, the armored cruiser departed Portsmouth, N.H., and proceeded to Charleston, S.C., to embark President William Howard Taft for a roundtrip voyage to Panama to inspect progress on the transisthmus canal which was then being constructed. She returned to Hampton Roads on 22 November and then engaged in battle practice off the Virginia coast into February 1911. Following a Mardi Gras visit to New Orleans and a visit to New York early in March, the ship steamed to Cuban waters for two months of operations out of Guantanamo Bay.
Placed in reserve at the Portsmouth ( N.H. ) Navy Yard on 15 June 1911, she remained on the east coast for a year and one-half before departing Philadelphia on 12 November 1912 for the Mediterranean. Arriving off Smyrna (now Izmir), Turkey, on 1 December, she remained there protecting American citizens and property during the First Balkan War until 3 May 1913 when she headed home. After reaching Hampton Roads on the 23d, Tennessee operated on the east coast until entering the Atlantic Reserve Fleet at Philadelphia on 23 October. On 2 May 1914, she became receiving ship at the New York Navy Yard.
On 6 August, Tennessee sailed from New York for duty in Europe through the first half of 1915 supporting the American Relief Expedition. In August, she transported the 1st Regiment, Marine Expeditionary Force, and the Marine Artillery Battalion to Haiti. From 28 January to 24 February 1916, the cruiser served as flagship of a cruiser squadron off Port-auPrince, Haiti. In March, she embarked a group of dignitaries at Hampton Roads for a two-month, roundtrip cruise to Montevideo, Uruguay.
On 25 May, Tennessee was renamed Memphis, honoring a city of Tennessee, so that the name Tennessee could be reassigned to a new warship, Battleship No. 43. In July, the ship got underway for Central America arriving at San Domingo on 23 July for peace-keeping patrol off the rebellion-torn Dominican Republic. On the afternoon of 29 August, while at anchor in the harbor of San Domingo, Memphis was driven ashore by an unexpected tidal wave and totally wrecked. The casualties, including a boatload of Memphis sailors returning from shore leave, numbered some 40 men dead or missing and 204 badly injured.
Memphis was struck from the Navy list on 17 December 1917 and sold to A. H. Radetsky Iron and Metal Co., Denver, Colo., on 17 January 1922 for scrapping.