USS North Carolina ACR-12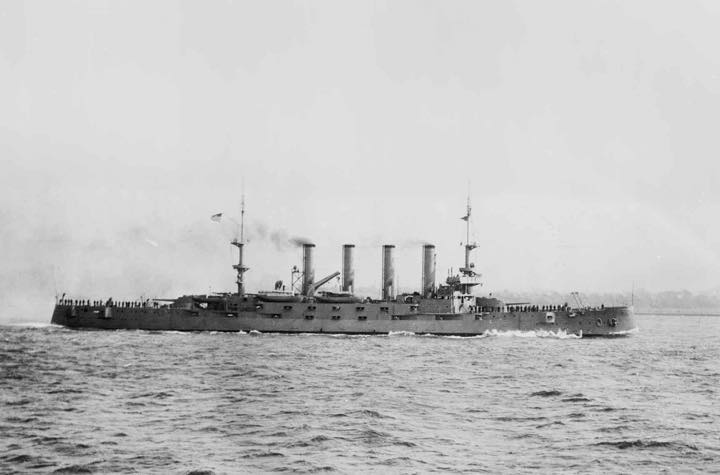 North Carolina II
(ACR-12: dp. 14,500;1. 504'6"; b. 72'11"; dr. 25'; s. 22 k.; cpl. 859; a. 4 10", 16 '6', 22 3", 12 3-pdrs., 4 1-pdr., 2 .30 eel. mg., 4 21" tt.; cl. Tenneesee)
The second North Carolina (ACR-12) was laid down 21 March 1905 by Newport News Shipbuilding and Dry Doek Co., Newport News, Va.; launched 6 October 1906; sponsored bv Miss Rebekah Glenn, daughter of the Governor of North Carolina; and commissioned at Norfolk 7 May 1908, Captain William A. Marshall in command.
Following shakedown along the eastern seaboard and in the Caribbean, North Carolina carried President-elect William Howard Taft on an inspection tour to the Panama Canal in January and February 1909. Between 23 April and 3 August, the new battleship cruised the Mediterranean. Sailing with Montana to protect Americans threatened by eonfliet in the
Turkish Empire. North Carolina sent a medical relief party ashore 17 May to Adana, Turkey, to treat both wounded and desperately ill Armenians, victims of massacre. North Carolina provided food, shelter, disinfectants, distilled water, dressings and medicines, and assisted other relief agencies already on the scene. For the remainder of her Mediterranean cruise, North Carolina cruised the Levant succoring American citizens and refugees from oppression.
In the years before World War I, North Carolina trained and maneuvered in the western Atlantic and Caribbean and participated in ceremonial and diplomatic activities. Highlights included attending centennial celebrations of the independenee of Argentina (May-June 1910) and Venezuela (June-July 1911); carrying the Seeretary of War for an inspeetion tour of Puerto Rico, Santo Domingo, Cuba, and the Panama Canal (July-August 1911); and bringing home from Cuba bodies of the crew of Maine for their final interment in Arlington National Cemetery.
As war began in Europe, North Carolina departed Boston 7 August 1915 to protect Americans in the Near East. After ealling at ports of England and France she cruised constantly between Jaffa, Beirut, and Alexandria, her presence a reminder of the might of the still neutral United States. She returned to Boston 18 June 1915 for overhaul.
Reaehing Pensecola, Fla., 9 September 1915, North Carolina contributed to the development of naval aviation through service as station ship. On 5 November 1915, she became the first ship ever to launch an aircraft by catapult while under way. This experimental work led to the use of catapults on battleships and cruisers through World War II, and to the steam catapults on present-day aircraft carriers.
When the United States entered World War I, North Carolina sailed north to escort troop transports plying between
Norfolk and New York. Between December 1918 and July 1919, she brought men of the AEF home from Europe. Renamed Charlotte 7 June 1920 so that her original name might be assigned to a new battleship, she decommissioned at Puget Sound Navy Yard, Bremerton, Wash., 18 February 1921. Her name was struck from the Navy List 15 July 1930, and she was sold for scrapping 29 September 1930.
The name North Carolina was assigned to BB-52, laid down at Norfolk Navy Yard 12 January 1920. However, work was halted 8 February 1922 under terms of the Washington Treaty for the Limitation of Naval Armaments, and the battleship's uncompleted hull sold for scrapping 25 October 1923. Her name was struck from the Navy List 10 November 1923.