USS Little Rock CL-92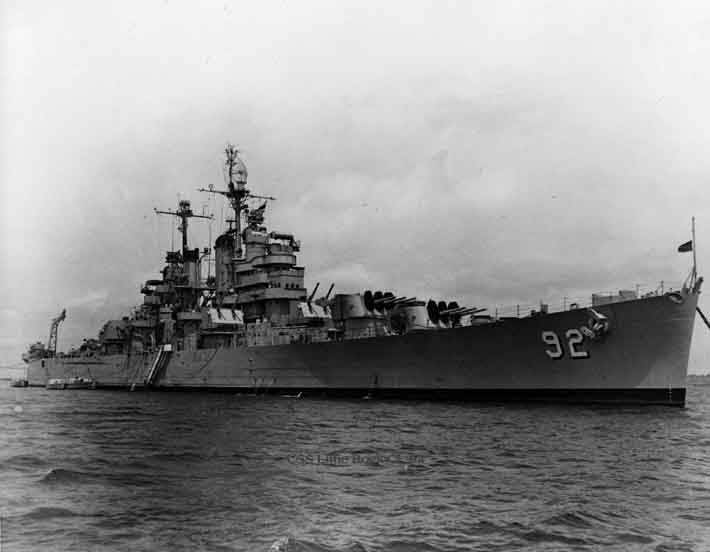 Little Rock
The capital city of Arkansas.
(CL-92: dp. 10,000; 1. 610'1"; b. 66'4"; dr. 20' ; s. 33 k.;
cpl. 992; a. 12 6", 12 5", 28 40mm., 10 20mm.;cl. Cleveland ~
Little Rock (CL-92) was laid down by Cramp Ship. building Co., Philadelphia, Pa., 6 March 1943; launched 27 August 1944; sponsored by Mrs. Sam Wassell; and commissioned 17 June 1945, Capt. W. E. Miller in command.
After shakedown off Cuba and training along the Atlantic coast, Little Rock departed Newport, R.I., 21 October for South America. Following this 5-month cruise to Latin countries, the Cruiser returned Norfolk 23 March 1946. For the next 2 months she performed exercises off the east coast and in the Caribbean, before sailing for Europe 4 June. After operating with the 6th Fleet through-. out the summer. Little Rock returned Norfolk 27 September 1946.
From September 1946 to 1949, the cruiser performed east coast exercises; operated in the Caribbean on training maneuvers~, and sailed to the Mediterranean during 1917 and 1948. Little Rock decommissioned 24 June 1949 and joined the Atlantic Reserve Fleet at New York.
Reclassified CLG 4 on 273 May 1957, Little Roc16 began a major conversion to a guided-missile warship. She recommissioned at Philadelphia 3 June 1960, Capt. J. O. Phillips in command. The cruise' performed shakedown training in the Caribbean, test-firing her Talos missiles to prepare to join the Navy's rapidly expanding fleet of ships armed w ith guided missiles capable of delivering a nuclear punch.
Departing Philadelphia 9 February 1961, Little Rock sailed for her first European cruise in her new role. After 6 months operating with the 6th Fleet and NATO units, the guided-missile cruiser returned to Norfolk during September.
While operating in the Caribbean, 18 November 1961, Little Rock was ordered to the waters off Santo Domingo to provide an element of stability during the uncertainty and unrest which plagued that country as rival factions vied to fill the political vacuum created by the assassination of Trujillo.
For the next 4 years Little Rock annually sailed to the Mediterranean, joining the might' 6th Fleet, serving as its flagship in 1962, as it maintain' d the peace in southern Europe and the Middle East. During the months between deployments to the Mediterranean, she operated off the east coast, in the Caribbean, and off northern Europe with units of NATO countries.
Remaining on the east coast during 1966 for overhaul and refresher training, she resumed a schedule of annual rotation to the Mediterranean in January 1967, and has continued to follow that schedule into 1969.