USS Chicago CA-136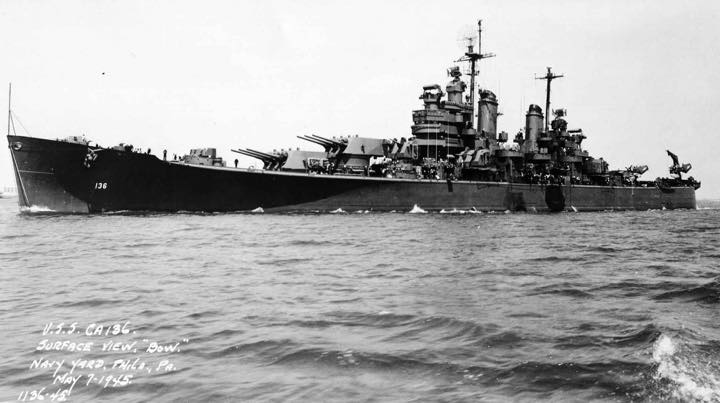 Chicago III
(CA-136: dp. 13,600; 1. 674'11"; b. 70'10"; dr. 20'6";
s. 33 k.; cpl. 1,142; a. 9 8", 12 6"; cl. Baltimore)
The third Chicago (CA-136) was launched 20 August 1944 by Philadelphia Navy Yard; sponsored by Mrs. E. J. Kelly; and commissioned 10 January 1945, Captain R. R. Hartung in command.
The heavy cruiser sailed from Philadelphia 7 May 1945 for Pearl Harbor, arriving 30 May. On 28 June, after further training in the Hawaiian Islands, Chicago and North Carolina (BB-56) departed Pearl Harbor and steamed to the Far East where they joined the 3d Fleet, 8 July. Chicago supported earrier air strikes and furnished shore bombardment in the final attacks against the Japanese home islands until the cease-fire of 15 August.
Chicago remained in Japan until November 1945 engaged in the demilitarization of Japanese bases. On 7 November she sailed from Tokyo for San Pedro, Calif. arriving 23 November. After overhaul and training, Chicago arrived at Shanghai 18 February 1946 for occupation duty. She remained there until 28 March as flagship of the Yangtze Patrol Force and then sailed to Sasebo, Japan, where she became flagship of Naval Support Foree, Japanese Empire Waters. She visited several cities in north and south Japan before clearing for the west coast 14 January 1947. She was placed out of commission in reserve at Puget Sound Naval Shipyard, 6 June 1947. On 1.November 1958 Chicago was reclassifled CG-11 and early in 1959, began conversion to a guided missile cruiser with completion scheduled for 1962.
Chicago (CA-136) received one battle star for World War II service