USS Biloxi CL-80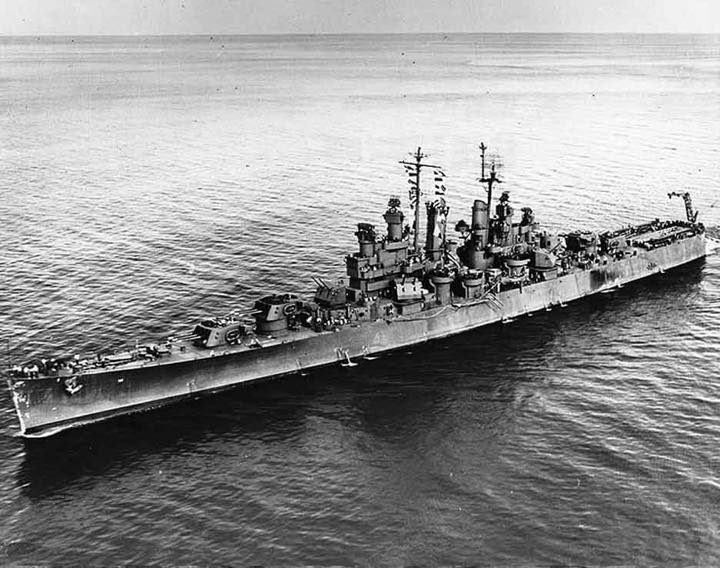 Biloxi
(CL 80: dp. 10,000; 1. 610'1"; b. 66'4"; dr. 26'6"; s. 33
k.: cpl. 992; a. 12 6", 12 5"; cl. Cleveland )
Biloxi (CI~80) was launched 23 February 1943 by Newport NewY F3hipbuilding and Dry Dock Co., Newport News, Va.; sponsored by Mrs. Louis Braun, commlisioned 31 August 1943, Captain D. M. MeCurl in command; and reported to Cruiser Division 13, Pacific Fleet.
From January 1944 until April 1945 Biloxi screened fast carrier task groups, bombarded shore installations and covered amphibious landings during the Elniwetok Marshall Islands, seizure (31 January-8 February 1944); Truk raid (16-17 February); Marianas raids (21-22 February ); Palau-Yap-Ulithi-Woleai raid ( 30 March1 April); raids in support of the Hollandia, New Guinea, landings (21-24 April); Truk-Satawan-Ponape raid (29 April-1 MaD); Saipan invasion (ll 24 June); Battle of the Philippine Sea (19 20 June); 3rd Bonins raid (3 4 July ); occupation Or Guam ( 12 July-15 August ); Chichi Jima bombardment (4 July); Palau-Yap-Ulithi raids (25-27 July); 4th Bonins raid (4 6 August); VolcanosBonins-Yap raid (31 August 8 September); occupation of the southern Palaus (6 September-14 October); Okinawa raid (10 October ); northern Luzon and Formosa raids (11-14 October); Luzon raids (15 and 17-19 October, 54, 13-14, and 19 2.e; November, and 14-16 December); Battle for Leyte Gulf (24-26 October); Luzon raids (6 7 January 1945); China coast raids (12 and 16 January); 5th Fleet raids on Honshu and the Nansei Shoto (15~16 and 26 February and 1 March); Iwo Jima invasion (15 February-1 March); and Okinawa operation (25 March 20 April),Biloxi was slightly dumaged by a Japanese suicide plane off Okinawa 27 AIarch 1946 but continued in action delivering accurate anti-aircraft fire.
She departed the fighting area 27 April 1946 enroute to the west coast for overhaul. She headed westward agnin in July took part in the attack on Wake Island (18 July), and arrived at Leyte 14 August. Following the surrender of Jnpan she assisted in the evacuation of' Allied prisoners of war from Nagasaki. Remaining on occupation duty until 9 November 1945 she then proceeded to Pearl Harbor and the United States. She moved to Port Angeles, Wash., 15 Jnnuary 1946 and reported to Commander, 19th Fleet, for inactivation. On 18 May 1946 she was placed in commission in reserve at Puget Sound Naval Shipyard and on 29 October 1946 went out of commission in reserve.
Biloxi received nine battle stars for her service in the Pacific during World War II.