USS Baltimore C-3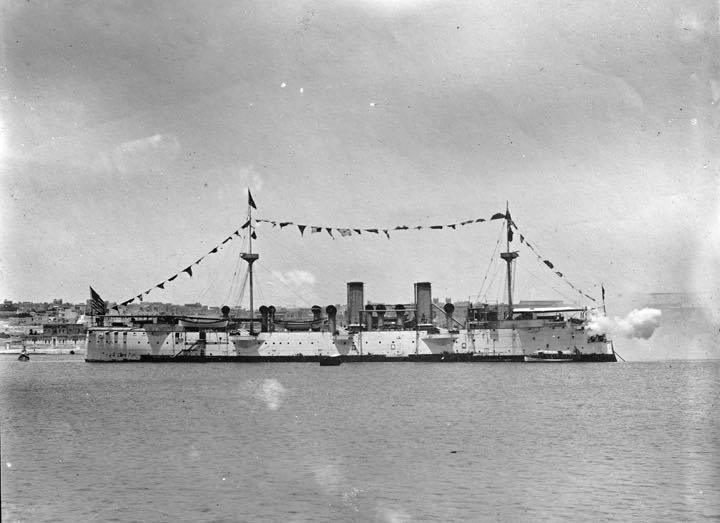 Baltimore IV
(C-3: dp. 4413, 1. 335', b. 48'8", dr. 20'6", s. 201 k.
cpl. 386; a. 4 8", e 8"; cl. Baltimore)
The fourth Baltimore (Cruiser No. 3) was launched 6 October 1888 by William Cramp and Sons Ship and Engine Building Co., Philadelphia, Pa.; sponsored by Mrs. Theodore D. Wilson, wife of Chief Constructor Wilson and commissioned 7 January 1890, Captain W. S. Sehley in command.
Baltimore became flagship of the North Atlantic Squadron 24 May 1890 and during 1-23 August conveyed the remains of the late Captain John Ericsson from New York to Stockholm, Sweden. After cruising in European and Mediterranean waters, she arrived at Valparaiso, Chile, 7 April 1891 to join the South Pacific Station. She protected American citizens during the Chilean revolution landing men at Valparaiso 28 August. Arriving at Mare Island Navy Yard 5 January 1892, she cruised on the west coast of the United States until 7 October and then returned to the Atlantic. She took part in the naval rendezvous and review in Hampton Roads during March and April 1893. Proceeding via the Suez Canal, she cruised as flagship of the Asiatic Station, 22 December 1893 3 December 1895, protecting American interests. Returning to ~Mare Island 21 January 1896, she went out of commission 17 February 1896.
Recommissioned 12 October 1897, Baltimore sailed on 20 October for the Hawaiian Islands and remained there between 7 November 1897 and 25 March 1898. She then Joined Commodore George Dewey's squadron at Hong Kong, 22 April 1898. The squadron sailed from Mirs Bay China, 27 April for the Philippines and on the morning of l May entered Manila Bay and destroyed the Spanish fleet stationed there. Baltimore remained on the Asiatic Station convoying transports and protecting American interests until 23 Mag 1900, when she sailed for the United States, via the Suez Canal, arriving at New York 8 September 1900.
Between 27 September 1900 and 6 May 1903 Baltimore was out of commission at New York Navy Yard. From 6 August to 28 December 1903 she served with the Caribbean Squadron, North Atlantic fleet, taking part in summer maneuvers off the coast of Maine, in the Presidential Review at Oyster Bay, N. Y. (15~17 August), and in Santo Domingo waters.~ Between 28 May and 26 August she was attached to the European Squadron and cruised in the ~Mediterranean. On 26 September she sailed from, Genna, Italy, for the Asiatic Station and spent the next two years cruising in Asiatic, Philippine, and Australian waters
Baltimore returned to New York 24 April 1907 and went out of commission at New York Navy Yard 15 May 1907. On 20 January 1911 she was placed in commission in reserve and served as a receiving ship at Charleston Navy Yard (30 January 1911-20 September 1912). During 1914 she was converted to a minelayer at Charleston Navy Yard and recommissioned 8 March l9l5. During 1915~16 she carried out mining experiments and operations in Chesapeake Bay and along the Atlantic Coast.
At American entry into World War I, Baltimore was training personnel. Early in March 1918 she was detailed to assist in laying a deep mine field off the north coast nt Ireland in the North Channel. She arrived at the Clyde on 8 March and between 13 April and 2 May laid approximately 900 mines in the North Channel. On 2 June she joined Mine Squadron 1 at Inverness, Scotland, and for four months participated in laying the Northern Mine Barrage.
On 28 September 1918 Baltimore sailed from Scapa Flow, Orkney Islands, for the United States. She carried out mining experiments in the vicinity of the Virgin Islands until the end of the year.
In September 1919 she joined the Pacific Fleet and remained on the west coast until January 1921. She then proceeded to, Pearl Harbor' where she was subsequently placed out of commission 16 September l922 and sold l6 February 1942