USS Louisiana BB-19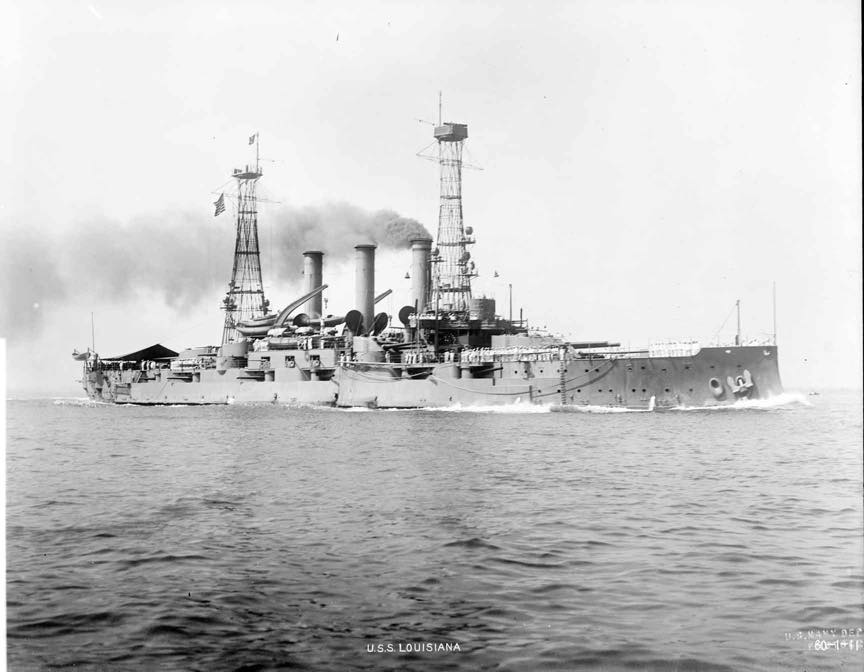 Louisiana III
(BB-19: dp. 16,000, 1. 456'4", b 76'10", dr. 24'6", s 18 k.; cpl. 827; a. 4 12", 8 8", 12 7", 20 3", 12 3-pdrs., 21-pdrs., 4 .30 cal. G.g., 4 21" tt.; cl. Connecticut)
The third Louisiana (BB-19) was laid down 7 February 1903 by the Newport News Shipbuilding & Dry Dock Co., Newport News, Va.; launched 27 August 1901; sponsored by Miss Juanita LaLande! and commissioned 2 June 1906, Capt. Albert R. Couden in command.
Following her shakedown off the New England coast
Louisiana sailed 15 September for Havana in response to an appeal by Cuban President Estrado Palma for American help in suppressing an Insurrection. The new battleship carried a peace commission comprised of Secretary of War William H. Taft and Assistant Secretary of State Robert Bacon, which arranged for a provisional government of the island. Louisiana stood by while this government was set up and then returned the commission to Fortress Monroe, Va.
Louisiana embarked President Theodore Roosevelt at Piney Point, Md., 8 November for a cruise to Panama to inspect work on the construction of the Panama Canal. Returning she briefly visited Puerto Rico, where the President studied the administrative structure of the Commonwealth's government, before debarking him at Piney Point 26 November.
During 1906 and 1907, Louisiana visited New Orleans, Havana, and Norfolk; maneuvered out of Guantanamo Bay; and engaged in battle practice along the New England coast. On 16 December 1907 she departed Hampton Roads as one of the 16 battleships President Theodore Roosevelt sent on a voyage around the world. The cruise of the "Great White Fleet" deterred hostile actions toward the United States by other countries, primarily Japan, raised American prestige as a global naval power and impressed upon Congress the importance of a strong Navy and a thriving merchant fleet. During the circumnavigation, Louisiana visited Port-of Spain; Rio de Janeiro; Junta Arenas and Valparaiso, Chile; Callao, Peru;
San Diego and San Francisco; Honolulu; Auckland; Sydney, Tokyo, Manila, Amey, China; Hong Rong; Manila; Columbo, Suez and Port Said, Smyrna, and Gibraltar before returning home 22 February 1909.
After overhaul and maneuvers, Louisiana joined the 2d Division of the Atlantic Fleet 1 November 1910 and sailed for European waters to Visit English and French ports before returning to the United States in the spring of 1911. During the summer, she paid formal visits to the north European ports of Copenhagen; Tralhafuet, Sweden, Rronstadt, Finland, and Riel, Germany, and was inspected by the Kings of Denmark and Sweden, the Kaiser, and the Tsar.
Between 6 July 1913 and 24 September 1915 Louisiana made three voyages from east coast ports to Mexican waters. On the first (6 July to 23 December 1913), she stood by to protect American lives and property and to help enforce both the Monroe Doctrine and the arms embargo which had been established to discourage further revolutionary disturbances in Mexico. Her second voyage (14 April to 8 August 1914) came at a time when tension between Mexico and the United 'states was at its peak during the shelling and occupation of Vera Cruz. Louisiana sailed a third time for Mexican waters to protect American interests again from 17 August to 24 September 1915.
Returning from the Gulf of Mexico, Louisiana was placed in reserve at Norfolk and, until the United States entered World War I, she served as a training ship for midshipmen and naval militiamen on summer cruises.
During world War I, Louisiana was assigned as a gunnery and engineering training ship, cruising off the middle Atlantic coast until 25 September 1918. At that time she became one of the escorts for a convoy to Halifax. Beginning 24 December, she saw duty as a troop transport, making four voyages to Brest, France, to carry troops back to the United States
Following her final trip back from Brest, Louisiana reported to the Philadelphia Navy Yard, where she decommissioned 20 October 1920 and was sold for scrap 1 November 1923.