USS New Jersey BB-16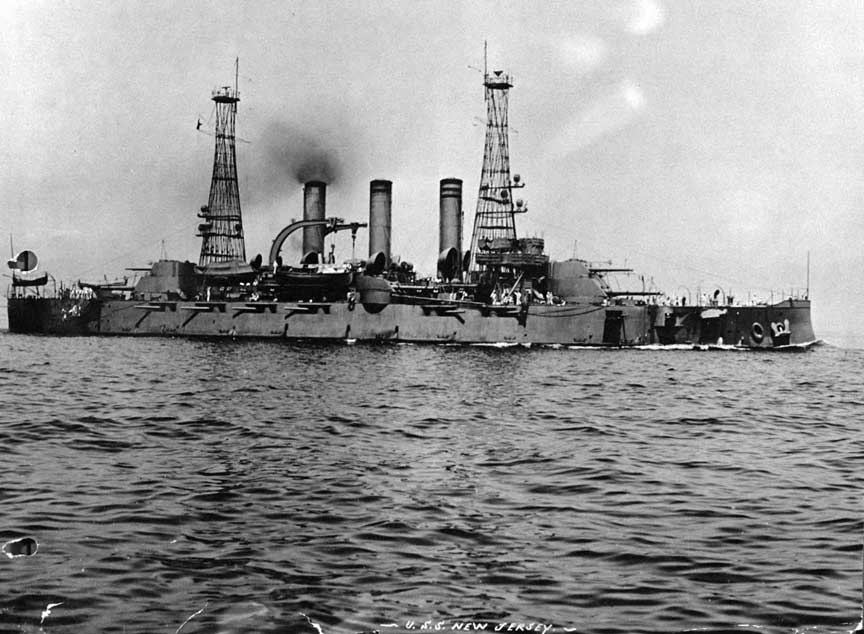 New Jersey
(BB-16: dp. 14,948; 1. 441'3"; b. 76'3"; dr. 23'9"; s. 19 k. cpl. 812; a. 4 12", 8 8", 12 6", 4 21" tt.;cl. Virginia)
The first New Jersey (BB-16) was launched 10 November 1904 by Fore River Shipbuilding Company, Quinoy Mass.
sponsored by Mrs. William B. Kenney, daughter of dovernor Franklin B. Murphy of New Jersey; and commissioned 12 May 1906, Captain William W. Kimball in command.
New Jersey's initial training in Atlantic and Caribbean waters was highlighted by her review by President Theodore Roosevelt in Oyster Bay during September 1906, and by her presence at Havana, Cuba, from 21 September through 13 October to protect American lives and property threatened by the Cuban Insurreetion. From 15 April to 14 May 1907, she lay in Hampton Roads representing the Navy at the Jamestown Exposition.
In company with fifteen other battleships and six attendant destroyers, New Jersey cleared Hampton Roads 16 December 1907, her rails manned and her guns crashing a 21-gun salute to President Roosevelt, who watched from Mayflower this beginning of the dramatic eruise of the Great White Fleet. The international situation required a compelling exhibition of the strength of the United States, this round-the-world cruise was to provide one of the most remarkable illustrations of the ability of seapower to keep peace without warlike action. Not only was a threatened eonfliet with Japan averted but notice was served on the world that the United States ha] eome of age, and was an international power which could make its influenee felt in any part of the world.
Commanded first by Rear Admiral Robley D. Evans, and later by Rear Admiral Charles S. Sperry the fleet laid its course for Trinidad and Rio de Janeiro, tten rounded Cape Horn. After ealling in Punta Arenas, Valparaiso and Callao, the battleships made a triumphant return to the United States at San Francisco. On 7 July 1908 the fleet sailed west, bound for Hawaii, Auckland, and three Australian ports; Sydney, Melbourne, and Albany. Each eity seemed to offer a more enthusiastic reception for the American sailors and their powerful ships than had the last, but tension and rumor of possible incident made the arrival in Tokyo Bay 18 October unique among the eruise's ealls.
Immediately it was elear that no special precautions had been necessary, nowhere during the eruise did the men of New Jersey and her sisters meet with more expression of friendship, both through elaborately planned entertainment and spontaneous demonstration. The President observed with satisfaction this accomplishment of his greatest hope for the eruise: "The most noteworthy incident of the eruise was the reception given to our fleet in Japan."
The Great White Fleet sailed on to Amoy, returned briefly to Yokohama, then held target praetiee in the Philippines before beginning the long homeward passage 1 December. The battleships passed through the Suez Canal 4 January 1909, called at Port Said, Naples and Villefranehe, and left Gibraltar astern 6 February. In one of the last ceremonial aets of his presidency, Theodore Roosevelt reviewed the Great White Fleet as it went up to anchor in Hampton Roads 22 February.
Aside from a period out of commission in reserve at Boston from 2 May 1910 until 15 July 1911, New Jersey carried out a normal pattern of drills and training in the Western Atlantic and Caribbean, carrying midshipmen of the United States Naval Aeademy in the summers of 1912 and 1913. With Mexican political turmoil threatening American interests, New Jersey was ordered to the Western Caribbean in the fall of 1913 to provide protection. On 21 April 1914, as part of the
force commanded by Rear Admiral Frank F. Fletcher, following Mexican refusal to apologize for an insult to American naval forces at Tampico, sailors and marines landed at Vera Cruz and took possession of the eity and its customs house until changes in the Mexican government made evacuation possible. New Jersey sailed from Vera Cruz 13 August, observed and reported on troubled conditions in Santo Domingo and Haiti, and reached Hampton Roads 9 October. Until the outbreak of World War I, she returned to her regular operations along the east coast and in the Caribbean.
During World War I, New Jersey made a major eontribution to the expansion of the wartime Navy, training gunners and seamen recruits in Chesapeake Bav. After the Armistice, she began the first of four voyages to France from which she had brought home 5,000 members of the AEF by 9 June 1919. New Jersey was decommissioned at the Boston Naval Shipyard 6 August 1920, and was sunk off Cape Hatteras 5 September 1923 in Army bomb tests conducted by Brig. Gen. William Mitehell.