USS New Hampshire BB-25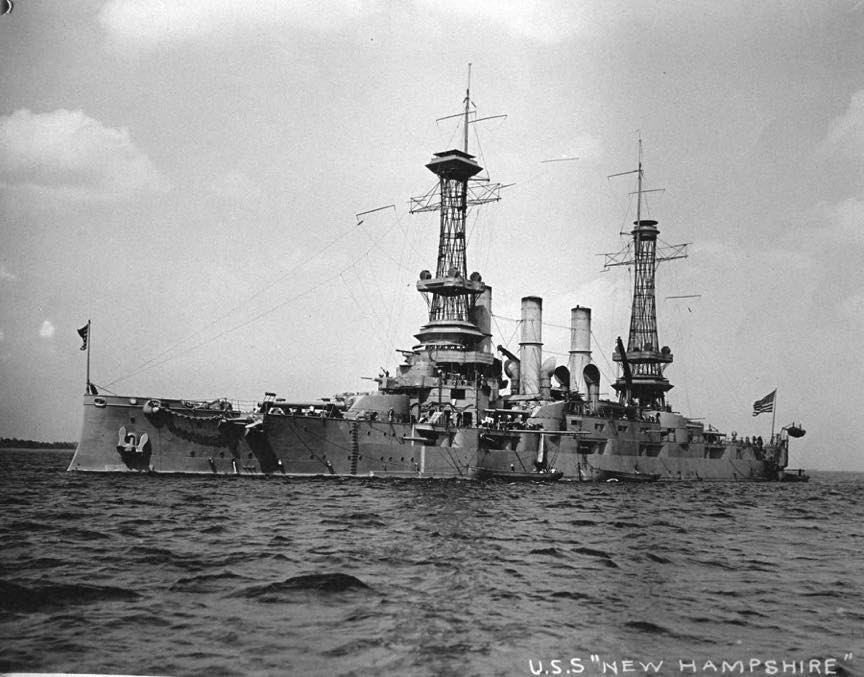 New Hampshire II
(BB-25: dp. 16 000, 1. 456'4", b. 76'10", dr. 24'6", s. 18 k., cpl. 850; a. i 12", 8 8", 12 7", 20 3", 2 1-pdrs., 4 21" tt.;cl. Connecticut)
The second New Hampshire (BB-25) was laid down 1 May 1905 by New York Shipbuilding Corp., Camden, N.J. Launched 30 June 1906, sponsored by Miss Hazel E. MeLane daughter of Governor John MeLane of New Hampshire; anl commissioned 19 March 1908, Capt. Cameron M. Winslow m command.
After fitting out at New York, New Hampshire carried a Marine Expeditionary Regiment to Colon, Panama, 20 26 June 1908, then made ceremonial visits to Quebee, Portsmouth, New York, and Bridgeport. Overhaul at New York and Caribbean exercises were followed by participation in the Naval Review by President Theodore Roosevelt in Hampton
Roads 22 Februarv 1909, welcoming home the "Great White Fleet." Through the next year and a half she exercised along the east coast and in the Caribbean, then departed Hampton Roads 1 November 1910 with the Second Battleship Division for Cherbourg, France and Weymouth, England. Leaving England 30 December, she returned to the Caribbean until arriving in Norfolk 10 March 1911 to prepare for a second European cruise which took her to Scandanavian, Russian and German ports. The squadron returned to New England waters 13 July.
New Hampshire trained Naval Academy midshipmen off New England in the next two summers, and patrolled off strife-torn Hispaniola in December 1912. From 14 June 1913 until 29 December, she similarly protected American interests along the Mexican coast, to which she returned 15 April 1914 to support the occupation of Vera Cruz. New Hampshire sailed north 21 June, was overhauled at Norfolk, and exercised along the east coast and in the Caribbean until returning to Vera Cruz in August 1915.
Arriving Norfolk 30 September 1915, New Hampshire operated in northern waters until 2 December 1916, when she sailed for Santo Domingo, where her commanding officer took part in the government of the revolt-torn country. She returned to Norfolk in February 1917 for overhaul, where she lay when the United States entered World War I. For the next year and a half she trained gunners and engineers in northern coastal waters, and on 15 September began the first of two convoy escort missions, guarding transports from New York to a rendezvous point off the French coast. On 24 December she sailed on the first of four voyages bringing veterans home from France to east coast ports. This duty completed 22 June 1919, she was overhauled at Philadelphia, then 5 June 1920 sailed with Aeademy midshipmen embarked for a cruise through the Panama Canal to Hawaii and west coast ports. She returned to Philadelphia 11 September.
New Hampshire seryed as flagship for the special naval force in Haitian waters from 18 October to 12 January 1921 and on 25 January sailed with the remains of Swedish Minister Wilhelm Ekengren for Stockholm arriving 14 February. She called also at Kiel and Gravesen] before returning to Philadelphia 24 March. There she decommissioned 21 May 1921.
She was sold for scrapping 1 November 1923 in accordance with the Washington Treaty for the Limitation of Naval Armaments.
Construction of New Hampshire (BB-70), a battleship to be built by New York Navy Yard, Brooklyn, N.Y., was cancelled 21 July 1943.