USS North Dakota BB-29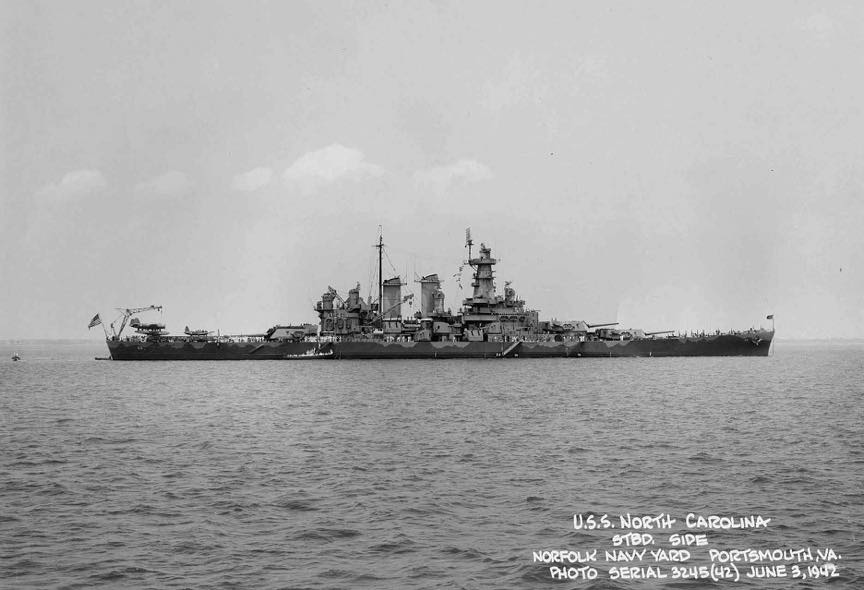 North Dakota
(BB-29: t. 20,000; 1. 518'9"; b. 85'3"; dr. 26'11", s. 21 k.;
cpl. 933; a. 1012", 14 5" 4 3-pdrs., 2 21" tt.; cl. Delaware)
North Dakota (BB-29) was laid down 16 December 1907 by Fore River Shipbuilding Co., Quiney, Mass.; launched 10 November 1908; sponsored by Miss Mary Benton, and commissioned at Boston 11 April 1910, Comdr. Charles P. Plunkett in command.
In her first years North Dakota operated with the Atlantic Fleet in maneuvers along the East Coast and in the Caribbean. She sailed 2 November 1910 for her first Atlantic crossing, visiting England and France prior to winter-spring maneuvers in the Caribbean. In the summers of 1912 and 1913 she carried Naval Academy midshipmen for training in New England waters, and on 1 January 1913 she joined the honor escort for Natal as the Brazilian ship entered New York harbor with the body of the late Whitelaw Reid, United States Ambassador to Brazil.
As Mexican political disturbances strained relations with the United States, North Dakota sailed for Vera Cruz, where she arrived 26 April 1914, five days after American sailors had occupied the city. She cruised the coast of Mexico to protect Americans and their interests until a more stable government took office, and returned to Norfolk 16 October. An even more intensive program of training was taken up by the Atlantic Fleet as war threatened, and North Dakota was in Chesapeake Bay for gunnery drills when the United States entered World War I
Throughout the war, North Dakota operated in the York River, Va., and out of New York training gunners and engineers for the expanding fleet. Then, on 13 November 1919, she stood out of Norfolk to carry home the remains of the late Italian Ambassador to the United States. While in the Mediterranean, she called at Athens, Constantinople, Valencia, and Gibraltar before returning to the Caribbean for the annual spring maneuvers. In the summer of 1921, she took part in the Army-Navy bombing tests off the Virginia Capes in which the German warships Frankfart and Ostiriesland were sunk to demonstrate the potentialities of airpower. She interrupted fleet operations during the next two summers to again cruise with midshipmen, contributing to the future strength of the Navy by educating its officers-to-be. The cruise of 1923 took her to Seandinavia, Scotland, and Spain
North Dakota decommissioned at Norfolk 22 November 1923. Her name was struck from the Navy List 7 January 1931, and she was sold for scrapping 16 March 1931.