USS Kearsarge BB-5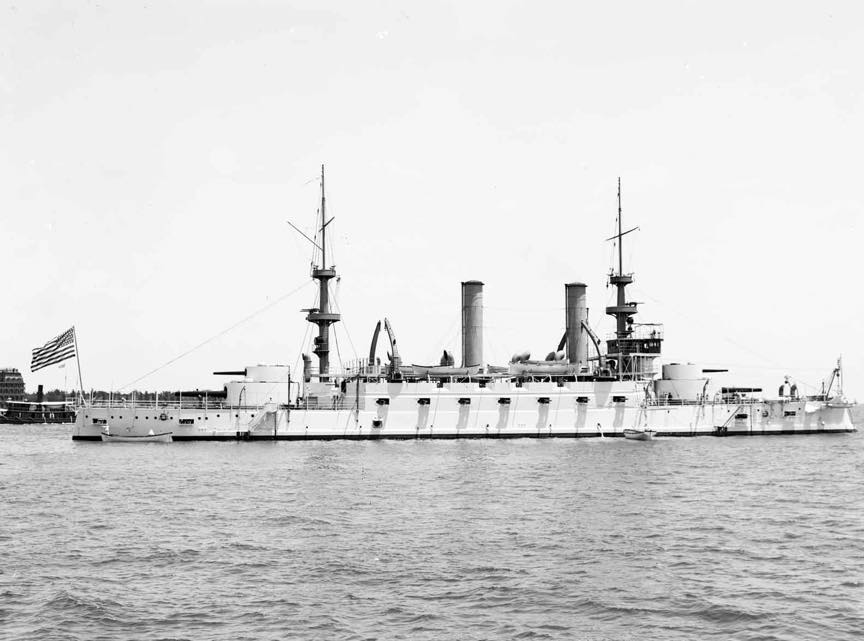 (BB-5: dp. 11,540; 1. 375'4"; b. 72'3"; dr. 23'6"; s. 16 k.; cpl. 553; a. 4 13"; 4 8", 14 5", 20 6-pdr., 8 1-pdr., 4.30 cal. )
The second Kearsarge , named by act of Congress to commemorate the famed steam sloop-of-war, was launched 24 March 1898 by the Newport News Shipbuilding Co. Newport News, Va.; sponsored by Mrs. Herbert Winslow daughter-in-law of Kearsarge commander, Captain John A. Winslow, during her famous battle with Alabama, and commissioned 20 February 1900, Captain William M. Folger in command.
Kearsarge became flagship of the North Atlantic Station, cruising down the Atlantic seaboard and in the Caribbean. From 3 June 1903 to 26 July 1903 she served briefly as flagship of the European Squadron while on a cruise that took her first to Riel, Germany. She was visited by the German Emperor 25 June 1903 and by the Prince of Wales 13 July. She returned to Bar Hnrbor Maine, 26 July 1903 and resumed duties as flagship of the North Atlantic Fleet. She sailed from New York 1 December 1903 for Guantanamo Bay, Cuba, where, on 10 December, the United States took formal possession of the Guantanamo Naval Reservation. Following maneuvers in the Caribbean, she led the North Atlantic Battleship Squadron to Lisbon where she entertained the King of Portugal, 11 June 1904. She next steamed to Phaleron Bay, Greece where she celebrated the Fourth of July with the King Prince Andrew, Princess Alice of Greece. The squadron paid goodwill calls at Corfu, Trieste, and Fiume before returning to Newport, R.I., 29 August 1904.
Kearsarge remained flagship of the North Atlantic Fleet until relieved 31 March by battleship Maine, but continued operations with the fleet. During target practice off Cape Cruz, Cuba, 13 April 1906, an accidental ignition of a powder charge of a 13 inch gun killed two offlcers and eight men. Four men were seriously injured. Attached to the 2d Squadron, 4th Division, she sailed 16 December 1907 with the "Great White Fleet" of battleships, sent around the world by President Theodore Roosevelt. She sailed from Hampton Roads around the coasts of South America to the western seaboard, thence to Hawaii, Australia, New Zealand, the Philippines, and Japan. From there,Kearsarge proceeded to Ceylon, transited the Suez Canal, and visited ports of the Mediterranean, before returning to the eastern seaboard of the United States. President Theodore Roosevelt reviewed the Fleet as it passed into the Hampton Roads 22 February 1909, having completed a world cruise of overwhelming success, showing the flag and spreading good will. This dramatic gesture impressed the world with the power of the U.S. Navy.
Kearsarge decommissioned in the Philadelphia Navy Yard 4 September 1909 for modernization. She recommissioned 23 June 1915 for operations along the Atlantic coast until 17 September when she departed Philadelphia to land a detachment of marines at Vera Cruz, Mexico. She remained off Vera Cruz from 28 September 1915 to 5 January 1916, then carried the marines to New Orleans before joining the Atlantic Reserve Fleet 4 February 1916 at Philadelphia. She trnined Massachusetts and Maine State Naval Militia until America entered World War I, then trained thousands of armed guard crews as well as naval engineers in waters along the East Coast ranging from Boston to Pensacola. On the evening of 18 August 1918, Kearsarge rescued 26 survivors of Norwegian Bark Nordhav which had been sunk by German Submarine V 117. The survivors were landed in Boston.
Kearsarge continued as engineering training ship until 29 May 1919 when she embarked Naval Academy Midshipmen for training in the West Indies. The midshipmen were debarked at Annapolis 29 August and Kearsarge proceeded to the Philadelphia Navy Yard, where she decommissioned 10 May 1920 for conversion to a crane ship and a new career. She was designated AB-1 5 August 1920.
In place of military trappings,Kearsarge received an immense revolving crane with a rated lifting capacity of 250 tons, as well as hull "blisters," which gave her more stability. The 10,000-ton craneship rendered invaluable service for the next 20 years. One of many accomplishments was the raising of sunken submarine Squalus off the New Hampshire coast. On 6 November 1941 she was designated Crane Ship No. 1, giving up her illustrious name which was assigned to a mighty aircraft carrier. But she continued her yeoman service and made many contributions to the American victories of World War II. She handled guns, turrets, armor and other heavy lifts for new battleships such as lndiana and Alabama, cruisers Savannah and Chicago, and guns on the veteran battleship Pennsylvania.
In 1945 the crane ship was towed to the San Francisco Naval Shipyard where she assisted in the construction of carriers Hornet, Boxer, and Saratoga. She departed the West Coast in 1948 to finish her career in the Boston Naval Shipyard. Joe McDonald, master rigger, described her as "a big gray hulk of a thing" which was "pulled around by two or three tugs" on the job; "But the old girl has brought millions of dollars worth of business to Boston. Without her we would never have been able to do many of the big jobs that cost millions of dollars." As one example, he recalled that the former battleship lifted a gantry crane intact at the South Boston Naval Drydocks and transporting it to Charleston where she placed it on crane tracks to be driven away. As Crane Ship No. 1, her name was struck from the Navy List 22 June 1955. She was sold for scrapping 9 August 1955.