USS Iowa BB-4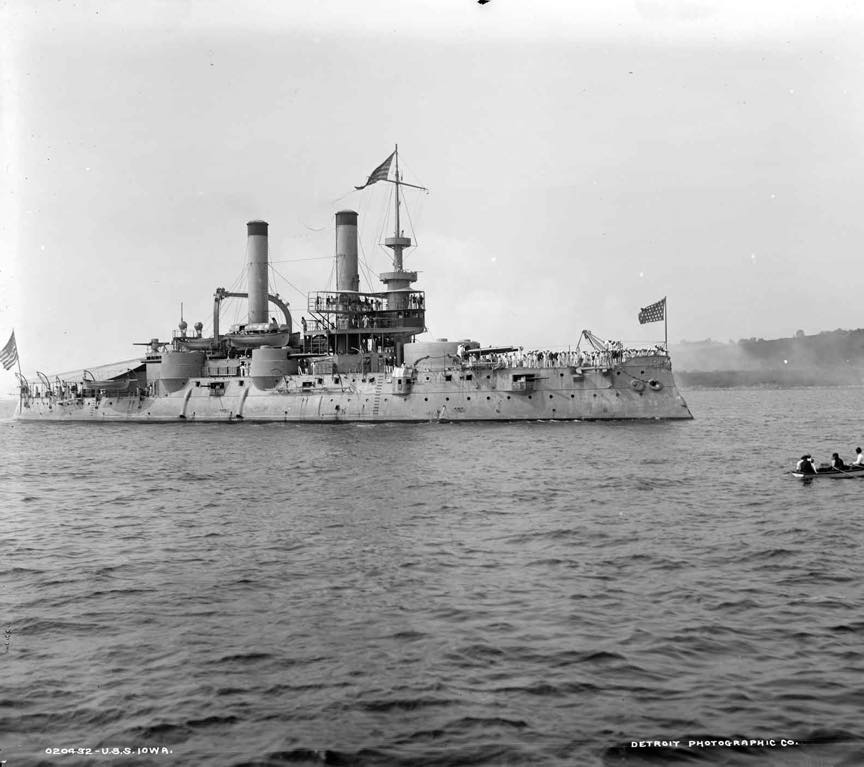 (BB-4: dp. 11,346; 1. 360'; b. 72'2", dr. 24'; s. 17 k.cpl; 727; a. 4 12", 8 8", 6 4", 20 6-pdrs., 4 1-pdrs,, 24 14'tt)
The second Iowa (BB-4) was laid down by William Cramp & Sons, Philadelphia, 5 August 1893, Iaunched 28 March 1896; sponsored by Miss M. L. Drake, daughter of the governor of Iowa; and commissioned 16 June 1897, Captain W. T. Sampson in command.
After shakedown off the Atlantic Coast, Iowa was assigned to the Atlantic Fleet and was ordered to blockade duty, 28 May 1898, off Santiago de Cuba. On 3 July 1898, she was the first to sight the Spanish ships approaching and fired the first shot in the Battle of Santiagode Cuba. In a 20-minute battle with Spanish cruisers
Maria Teresa (flagship) and Oquendo, her effective fire set both ships aflame and drove them on the beach. Iowa continuing the battle in company with converted yacht Oloucester, sank the Spanish destroyer Pluton and so damaged destroyer Furor that she ran upon the rocks. Iowa then turned her attention to the Spanish cruiser Viscaga which she pursued until Visoeva ran aground. Upon the conclusion of the battle. Iowa received on board Spanish Admiral Cervera and the officers and crews of the Viscaya, Furor and Pluton.
After the Battle of Santiago, lowa left Cuban waters for New York, arriving 20 August 1898. On 12 October 1898, she departed for duty in the Pacidc, sailed around Cape.Horn, and arrived San Francisco 7 February 1899. The battleship then steamed to Bremerton, Wash., where she entered drydock 11 June 1899. After reds, Iowa served in the Paclfic Squadron for 21/2 years, conducting training cruises, drills, and target practice Iowa left the Pacific early in February 1902 to become flagship of the South Atlantic Squadron. She sailed for New York 12 February 1903 where she decommissioned 30 June 1903.
Iowa recommissioned 23 December 1903 and joined the North Atlantic Squadron. She participated in the John Paul Jones Commemoration ceremonies, 30 June 1905. Iowa remained in the North Atlantic until she was placed in reserve 6 July 1907. She decommissioned at Philadelphia 23 July 1908.
Iowa recommissioned 2 May 1910 and served as an nt sen trnining ship and as a component of the Atlantic Reserve Fleet. During the next 4 years she made a number of training cruises to Northern Europe and participated in the Naval Review at Philadelphia, 10 to 15 October 1912. She decommissioned at Philadelphia Navy Yard 27 May 1914. At the outbreak of the first World War, Iowa was placed in limited commission 23 April 1917. After serving as Receiving Ship at Philadelphia for 6 months, she was sent to Hampton Roads, Va., and remained there for the duration of the war, training men for other ships of the Fleet, and doing guard duty at the entrance to Chesapeake Bay. She decommissioned for the final time 31 March 1919.
On 30 April 1919, Iowa was renamed Coast Battleship No. 4, and was the first radio controlled target ship to be used in a fleet exercise. She was sunk 23 March 1923 in Panama Bay by a salvo of 14-inch shells.
BB-53 was laid down as Iowa at Newport News Shipbuilding & Drydock Co., 17 May 1920, but on 8 February 1922, work was suspended when the ship was 31.8 percent complete. Construction was cancelled 17 August 1923 in accordance with the terms of the Washington Treaty limiting Naval armaments. She was sold for scrap 8 November 1923.