USS Florida BB-30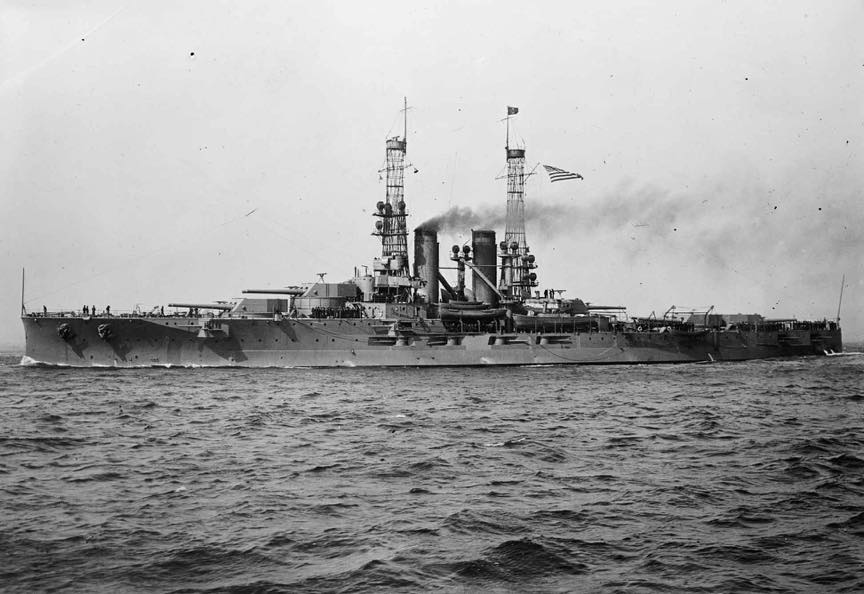 Florida V
(BB-30: dp. 21,825; 1. 521'6"; b. 88'3"; dr. 28'4";
s. 21 k., cpl. 1001; a. 10 12", 16 5", 2 21" tt.;
cl. Florida)
The fifth Florida (BB-30) was launched 12 May 1910 by New York Navy Yard, sponsored by Miss E. D. Fleming, daughter of a former Florida governor, and commissioned 15 September 1911, Captain H. S. Knapp in command.
After extensive training in the Caribbean and Maine coastal waters, Florida arrived in Hampton Roads, VA. 29 March 1912 to join the Atlantic Fleet as flagship of Division l. Regularly scheduled exercises, maneuvers, fleet training and target practice, and midshipmen training cruises took the new battleship to many east coast ports and into Caribbean waters. Early in 1914 tension heightened between the United States and factions in Mexico and Florida arrived off Vera Cruz on 16 February remaining there during the ensuing occupation. She steamed to New York in July to resume regular Fleet operations and in October was transferred to Division 2.
Following United States entry into World War I, Florida completed exercises in the Chesapeake Bay and proceeded with Battleship Division 9 to join the British Grand Fleet at Scapa Flow, Orkney Islands, on 7 December 1917. She participated in the Grand Fleet's maneuvers and evolutions, and performed convoy duty with the 6th Battle Squadron through the remainder of the war. She rendezvoused with the Grand Fleet on 20 November 1918 when it met to escort the German High Seas Fleet into the Firth of Forth.
Florida joined the escort for George Washington, President Woodrow Wilson embarked, as she proceeded into Brest, France on 12 and 13 December 1918. She participated in the grand Victory Naval Review in the North River, New York City, in late December and then returned to Norfolk 4 January 1919 to resume peace time operations. During May she cruised to the Azores and took weather observations for the first aerial crossing of the Atlantic achieved that month by Navy seaplanes.
Florida's operations during the remaining years of her career were highlighted by participation in the tercentennary celebration in August 1920 of the Pilgrims' landing at Provincetown, Mass., a diplomatic voyage to South American and Caribbean ports with Secretary of State R. Lansing embarked, service as flagship for Commander, Control Force, U.S. Fleet, amphibious operations with Marines in the Caribbean, and midshipman training cruises. She was decommissioned at Philadelphia 16 February 1931 and scrapped
under the terms of the London Naval Treaty of 1930.