USS California BB-44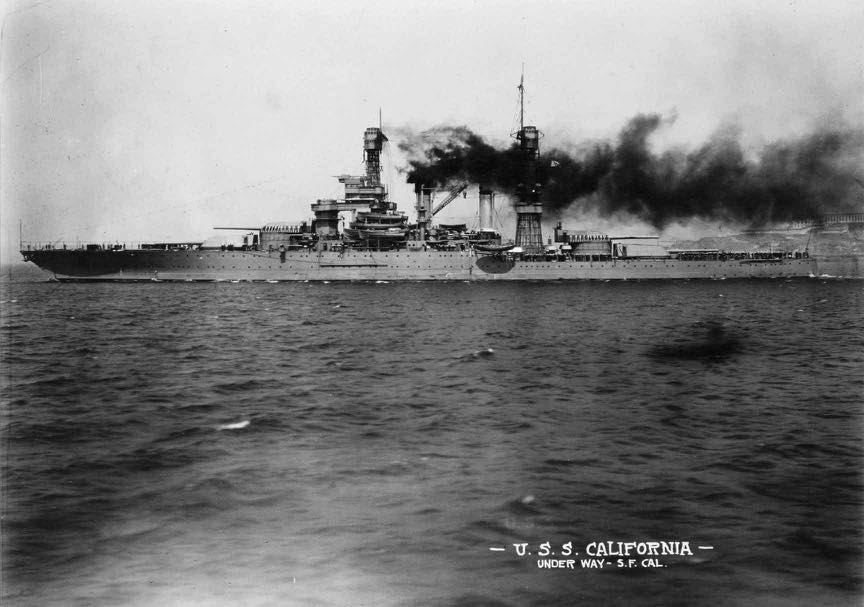 California III
(BB-44: dp. 32,300; 1. 624'6"; b. 97'4"; dr. 30'3"; s. 21
k., cpl. 1,083; a. 12 14", 14 5", 4 3", 2 21" tt., cl.Tennessee )
The fifth California (BB - 44) was launched 20 November 1919 by Mare Island Navy Yard; sponsored by Mrs. R. T. Zane, and commissioned 10 August 1921 Captain H. J. Ziegemeier in command; and reported to the Pacific Fleet as flagship.
For 20 years from 1921 until 1941, California served first as flagship of the Pacific Fleet, then as flagship of the Battle Fleet (Battle Force), U.S. Fleet. Her annual activities included joint Army-Navy exercises, tactical and organizational development problems, and fleet concentrations for various purposes. Intensive training and superior performance won her the Battles Efficiency Pennant for 1921-22, and the Gunnery "E" for 1925-26.
In the summer of 1925 California led the Battle Fleet and a division of cruisers from the Scouting Fleet on a very successful good-will cruise to Australia and New Zealand. She took part in the Presidential reviews of 1927, 1930, and 1934. She was modernized in late 1929 and early 1930 and equipped with an improved antiaircraft battery.
In-1940 California switched her base to Pearl Harbor. On 7 December 1941 she was moored at the southernmost berth of "Battleship Row" and was with other dreadnoughts of the Battle Force when the Japanese launched their aerial attack. As she was about to undergo a material inspection, watertight integrity was not at its maximum; consequently the ship suffered great damage when hit. At 0805 a bomb exploded below decks, setting off an antiaircraft ammunition magazine and killing about 60 men. A second bomb ruptured her bow plates. Despite valiant efforts to keep her afloat, the in rushing water could not be isolated and California settled into the mud with only her superstructure remaining above the surface. When the action ended, 98 of her crew were lost and 61 wounded.
On 26 March 1942 California was refloated and dry docked at Pearl Harbor for repairs. On 7 June she departed under her own power, for Puget Sound Navy Yard where a major reconstruction job was accomplished, including improved protection, stability, AA battery, and fire control system.
California departed Bremerton 31 January 1944 for shakedown at San Pedro, and sailed from San Francisco 5 May for the invasion of the Marianas. Off Saipan in June, she conducted effective shore bombardment and call fire missions. On 14 June she was hit by a shell from an enemy shore battery which killed one man and wounded nine. Following Saipan, her heavy guns helped blast the way for our assault force in the Guam and Tirrian operations (18 July 9 August). On 24 August she arrived at Espiritu Santo for repairs to her port bow damaged in a collision-with Tennessee (BB 43).
On 17 September 1944 California sailed to Manus to ready for the invasion of the Philippines. From 17 October to 20 November she played a key role in the Leyte operation, including the destruction of the Japanese fleet in the Battle of Surigao Strait (25 October). On 1 January 1945 she departed the Palaus for the Luzon landings. Her powerful batteries were an important factor in the success of these dangerous operations driven home into the heart of enemy-held territory under heavy air attack. On 6 January while providing shore bombardment at Lingayen Gulf she was hit by a kamikaze plane; 44 of her crew were killed and 155 were wounded. Undeterred she made temporary repairs on the spot and remained carrying out here critical mission of shore bombardment until the job was done. She departed 23 January for Puget Sound Navy Yard, arriving 15 February, for permanent repairs.
California returned to action at Okinawa 15 June 1945 and remained in that embattled area until 21 July. Two days later she joined TF 95 to cover the East China Sea minesweeping operations. After a short voyage to San Pedro Bay, P.I., in August, the ship departed Okinawa 20 September to cover the landing of the 6th Army occupation force at Wakanoura Wan, Honshu. She remained supporting the occupation until 15 October, then sailed via Singapore, Colombo, and Capetown, to Philadelphia, arriving 7 December. She was placed in commission in reserve there 7 August 1946: out of commission in reserve 14 February 1947; and sold 10 July 1959.