Theodore Roosevelt SSBN-600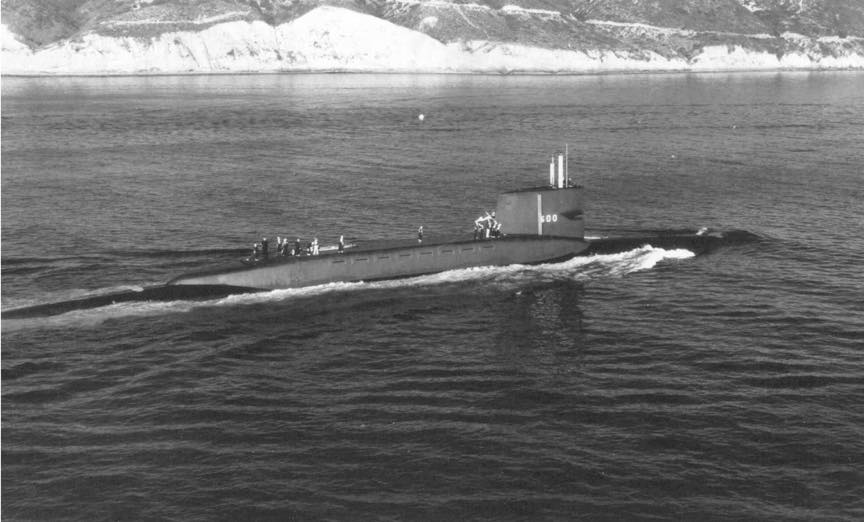 Theodore Roosevelt II

(SSBN-600: dp. 5,946 (surf.), 6,700 (subm.), 1. 382' b. 33', dr. 29'; s. 16 k. (surf.), 20+ k. (subm.), cpi. 139; a. 16 Polaris mist, 6 21" tt.; cl. George Washington)

Using components initially assembled for the Skip jack class nuclear attack submarine Scamp (SSN-588) SSGN-600 was laid down on 20 May 1958 by the Mare Island Naval Shipyard, named Theodore Roosevelt and redesignated SSBN-600 on 6 November 1958, launched on 3 October 1959; sponsored by Mrs. Alice Roosevelt Longworth; and commissioned on 13 February 1961, Comdr. William E. Sims (blue crew) and Comdr. Oliver H. Perry, Jr. (gold crew) in command.

Five days after commissioning, Theodore Roosevelt departed Mare Island, bound for the east coast. On 7 March, she became the first fleet ballistic missile submarine (FBM) to transit the Panama Canal. Four days later, she arrived at Cape Canaveral, Fla. After successfully firing her first Polaris A1 missile on 20 March and completing her shakedown training, the submarine arrived in Groton, Conn., on 1 May for post-shakedown availability at the Electric Boat Co. yard. She completed those repairs on 24 June and departed Groton, bound for Charleston, S.C. Theodore Roosevelt stopped at Norfolk, Va., along the way and arrived at Charleston on 7 July. Between 7 and 19 July, she loaded Polaris missiles at the Naval Ammunition Depot, Charleston, and made all other preparations for her first deployment. On the 19th, she stood out of Charleston on her first deterrent patrol. She concluded that patrol on 23 September at the FBM base at Holy Loch, Scotland.

Over the next three and one-half years, the submarine made 15 more deterrent patrols, departing. from and returning to the Holy Loch base in each instance. Late in the spring of 1965, she departed Holy Loch on her 17th and final patrol of the deployment. She concluded that patrol and the depIoyment when she arrived in Charleston on 15 June. She unloaded her 16 Polaris missiles and then departed Charleston for New London, Conn., where she arrived on 26 June.

At New London, Theodore Roosevelt entered the yard of the Electric Boat Division for an extensive overhaul Between July 1965 and January 1967, she had her nuclear reactor "refueled" and her Polaris weapon system modified to accept the more advanced Polaris A3 missile. The FBM submarine completed overhaul on 14 January 1967 and launched into sea trials and refresher training, all of which culminated in the successful firing of a Polaris A3 missile at the Cape Kennedy (Cape Canaveral) missile range late in April. At the end of the training period, she returned to Charleston to load missiles and to prepare for another series of deterrent patrols out of Holy Loch. She embarked upon her 18th patrol on 1 June and completed that cruise at the Holy Loch base.

Theodore Roosevelt's second tour of duty operating from the Scotland base proved to be very brief in comparison to her first. Between mid-June of 1967 and February of 1968, she completed her 18th, 19th, 20th and 21st patrols. On 20 March 1968 while returning to Holy Loch from her 21st patrol, the submarine ran aground off the western coast of Scotland. After drydocking for temporary correction of the damage, she departed Holy Loch on 5 April to return to the United States for permanent repairs. Between 18 and 20 April, she unloaded her missiles at Charleston and then headed north to New London. On the 23d, she arrived in the yard of the Electric Boat Division and commenced an extended repair period. Labor disputes caused delays, and Theodore Roosevelt did not complete her repairs until mid-October. She spent the latter part of that month in sea trials and then departed New London on 2 November on her post-repair shakedown cruise. She visited Norfolk, Puerto Rico, and St. Croix before concluding the cruise at Charleston on 27 November. She conducted training operations out of Charleston before deploying to Holy Loch again early in 1969.

That tour of duty lasted until May 1971. During the interim, she conducted nine more deterrent patrols, returning to Holy Loch for refit after each. On 12 May 1971, she stood out of Holy Loch on the 31st patrol of her career. On 20 July, Theodore Roosevelt arrived in

New London completing both the patrol and the deployment. She remained in New London for three weeks during which time members of her blue crew and her gold crew were brought together into a single overhaul crew while other members of both crews moved on to other assignments. On 10 August, the FBM submarine headed south to Charleston where she arrived on the 13th. Over the next month, she underwent refit and then departed Charleston on 11 September for special operations. Theodore Roosevelt returned to Charleston on the 30th and remained there a week and a day before returning to sea for another three weeks of special operations. The ballistic missile submarine reentered Charleston on 1 November and began a preoverhaul restricted availability. Three weeks later, she officially began her refueling overhaul, which lasted for more than two years.

Theodore Roosevelt completed her overhaul in January 1974. During the following two months, she conducted sea trials out of Charleston. In April and May shakedown training and nuclear weapons certification preparations occupied her time. In June, she conducted a one-week midshipman familiarization cruise out of New London; then underwent nuclear propulsion safety training before deperming at Norfolk. In mid-June, she received word of her reassignment to the Pacific Fleet with her new home port to be Pearl Harbor, Hawaii. Between July and September, Theodore Roosevelt conducted another midshipman training cruise; then settled into predeployment training and preparations. The submarine departed Charleston on 20 September, transited the Panama Canal on 5 October, and, after a nine-day stop for missile loadout at Bangor, Wash., continued on to Pearl Harbor, where she arrived on 4 November. Six days later, she departed Pearl Harbor, bound for the Marianas. She entered port at Guam two weeks later, underwent refit at her new advanced base there, and began her first deterrent patrol in the Pacific Ocean on 31 December. Theodore Roosevelt conducted patrols out of Guam until 16 December 1977 at which time she departed on her 43d deterrent patrol.