T-2 II SST-2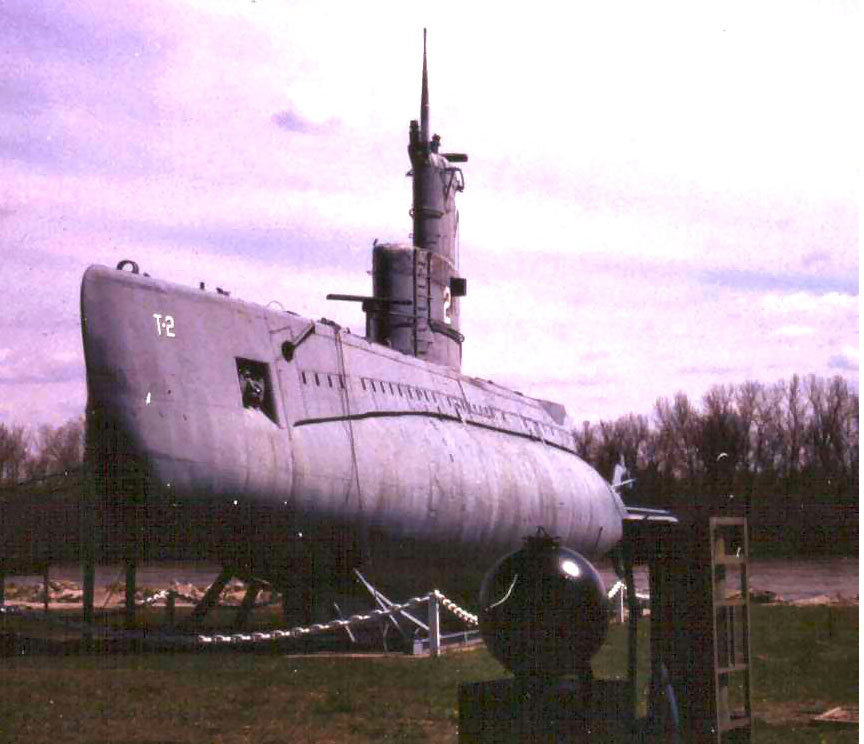 T2 II

(SST-2: dp. 303 (surf.), 347 (subm.), 1. 131'3n- b 13'7"; dr. 12'2" (mean) s. 10 k. (surf.), 10.6 k

(subm.); cpl. 14; a. 1 21J tt.; cl. T-1)

T-2 (SST-2) was laid down on 1 May 1952 at Groton Conn., by the Electric Boat Division of the General Dynamics Corp.; launched on 14 October 1953, sponsored by Mrs. William R. DeLoach; and placed in Service on 20 November 1953, Lt. Edward Holt in command.

One of the smallest submarines ever built for the Navy, T-2 conducted her shakedown and initial trials in the Massachusetts Bay area before getting underway from New London in late January 1964 and proceeding to her home port, Key West, Fla. For nearly two decades, the submarine provided valuable target services for the air and surface units of the Atlantic Fleet and played an important role in the developments in tactics and equipment for both submarine and antisubmarine warfare.

In addition to target and training duty for the Fleet, the submarine participated in various fleet maneuvers. In 1955, from 7 March to 4 April, T-2 took part in mine warfare exercises, in company with her sister ship T-1 (SST-1), Amberjack (SS-522), Batfish (SS310), and Chivo (SS-341), as well as Atlantic Fleet minecraft. Named Marlin on 15 May 1956, the submarine was deployed to Guantanamo Bay, Cuba, for services to the Fleet Training Group in July and August 1958, March 1960, and December 1961.

From 1963, Marlin operated primarily as a target. On 16 June 1969, Marlin departed Key West for overhaul by the Ingalls Shipbuilding Division of Litton Industries, Inc. After calling briefly at St. Petersburg, Fla., en route, she arrived at Pascagoula, Miss., on 23 June and, soon thereafter, commenced her refurbishing. On 17 August, hurricane "Camille" swirled its destructive way in from the Gulf of Mexico. During the tempest, Marlin was uncocked and towed inland. In the ensuing week, Lt. Comdr. James R. Burnett in command of Marlin, led his crew in assisting the local communities in recovery operations in the wake of the devastating hurricane. Subsequently completing her overhaul on 7 October, Marlin sailed for Key West to resume her target operations.

Sometime in 1971, Marlin was commissioned. The submarine continued to provide target services to surface and air units of the Atlantic Fleet into 1972, until Marlin was decommissioned in a dual ceremony with sister ship Mackerel (SST-1) at the naval station at Key West on 31 January 1973. Both submarines were struck from the Navy list on the same day.

In April 1974, Marlin was transferred to the Greater Omaha Military Historical Society of Omaha, Nebraska, for use as a memorial. On 25 August 1974, the submarine was dedicated at the opening of "Freedom Park," where she remains on display.