Queenfish SS-393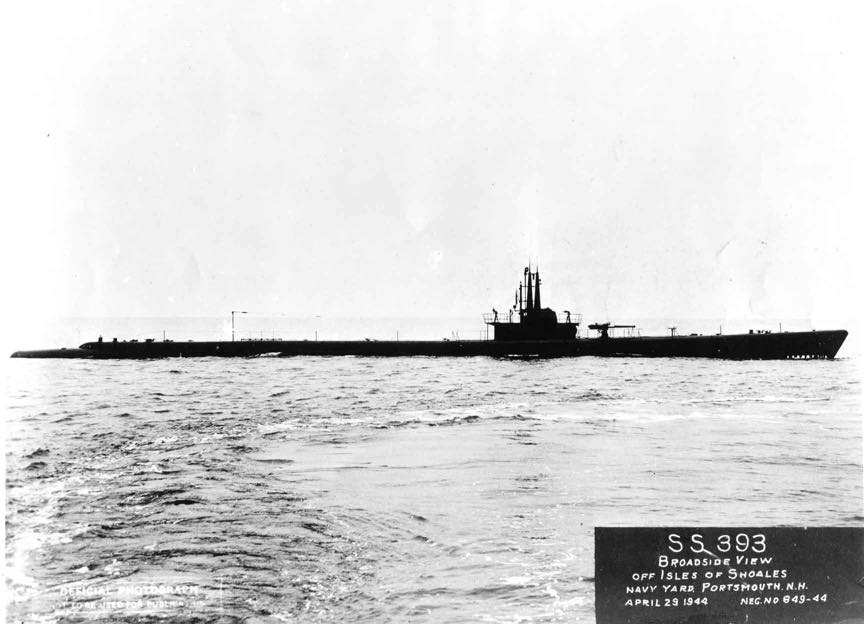 Queenfish

(SS-393: dp. 1,526 (surf.), 2,391 (subm.),1. 311'6", b. 27'3" dr. 15'3"; s. 20 k. (surf.) 9 k. (subm.); cpl. 66, a. 1 5", 1 40mm., ld 21" tt.; cl. Balao)

The first Queenfish (SS-393) was laid down by the Navy Yard Portsmouth, N.H., 27 July l943, launched 30 November 1943; sponsored by Mrs. Robert A. Theobald, and commissioned 11 March 1944, Lt. Comdr. C. E. Loughlin in command.

After shakedown off the east coast and further training in Hawaiian waters, Queenf sh set out on her first patrol 4 August 1944. The last day of the month she made her first kill, 4,700-ton tanker Chiyoda Maru. On 9 September she scored twice more, on 7,09i-ton passenger-cargo ship Toyooka Maru and 3,054-ton transport Manshu ~faru, before she put into Majuro for refit 3 October.

Queenfish's second war patrol was conducted in the northern part of the East China Sea. On 8 November she sank 1,051-ton Keijo Maru and the 1,948-ton Hakko Maru. On the 9th, she sent 2,131-ton Chojusan Maru, a former gunboat, to the bottom, and Oll the 15th sent 9,186-ton aircraft ferry Akitsu Maru to a similar fate.

Having received the Presidential Unit Citation for her first two patrols, Queenfish spent her third war patrol, 29 December to 29 January 1945, in the Formosa Straits and waters adjacent to the China coast without sinking any ships. Returning to the same area for her fourth war patrol 24 February to 14 April she sank 11,600-ton passenger-cargo ship Awa Maru 1 April 1945. Unfortunately her victim was a ship whose safe passage had been guaranteed by the United States government, since she was to earry Red Cross relief supplies to Japanese prisoner-of-war camps. On the 12th she rescued the 13-man crew of a Navy flying boat. Queenfish spent her fifth patrol on lifeguard duty in the East China Sea— Yellow Sea area. She was at Midway preparing for another patrol when the war ended.

After overhaul at Mare Island, Queenfish assumed duties as Flagship, Submarine Force, Pacific Fleet. Homeported at Pearl Harbor after the war, Queenfish returned to the Far East during March 1946 and in June-July 1949, but spent most of the period to 1950 in training operations in the eastern Pacific. In late 1947 she operated in the Bering Sea.

In February and March 1950 Queenfish took part in eombined operations with units of the U.S. Pacific and British Fleets. She made eruises to Korean waters in 1951 and 1953. In February 1954 she sailed to her new homeport of San Diego. The next four years were spent operating off the west coast of the United States, with the exception of two weeks in Hawaii in late 1956. On 16 January 1958 she departed for a 6 month deployment to WestPae, returning to San Diego 27 July to resume operations off the west coast of the United States.

Queenfish was reclassified AGSS-393 1 July 1960. She decommissioned and was struck from the Navy List 1 March 1963 to be sold for scrapping.

Queenfish earned 6 battle stars for World War II service.