Plunger SS-2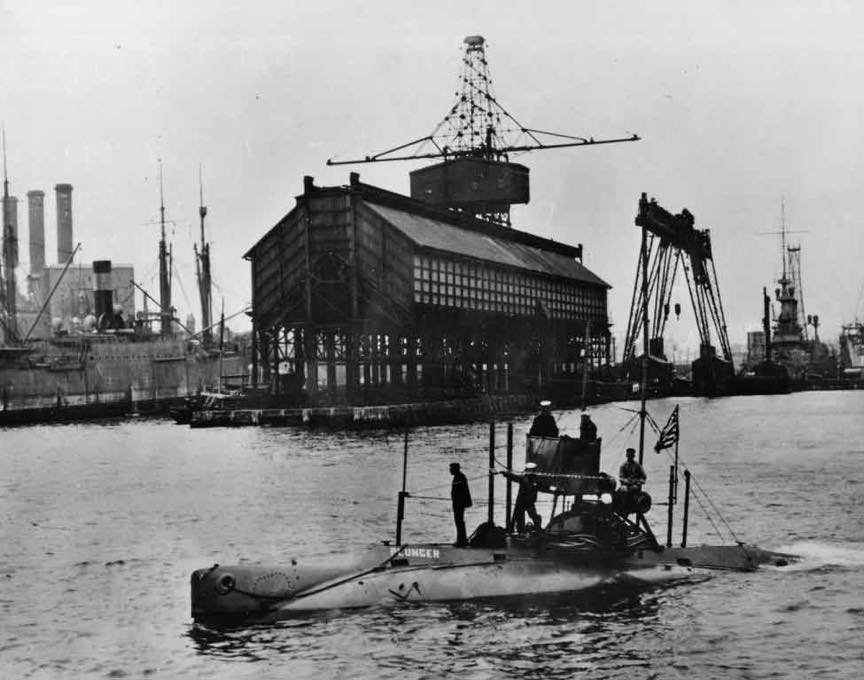 Plunger

(SS: dp. 149 (n.), 168 (subm.); 1. 85'3"; b. 11'6"; dr. 11';
s. 15 k. (surf.), 8 k. (subm.); cpl. 7; a. 2 18 tt)

Plunger, the first submarine torpedo boat to be built for the Navy, was authorized by Congress 3 March 1893, A contract for her construction was awarded to Holland Torpedo Boat Co. 13 March 1895. However, the boat and the contract were eaneelled in April 1900.

(SS-2: dp. 107,1. 63'10", b. 11'11" dr. 10'7", s. 8 k. (surf.),
7 k. (subm.); cpl. 7; a. 1 18" tt; cl. A-l)

The first Plunger (SS-2) was laid down 21 May 1901 at Crescent Shipyard, Elizabethport, N.J. under subcontract from J. P. Holland Torpedo Boat Co., Iaunehed 1 February 1902; sponsored by Miss Ernestine Wardwell, and commissioned at New Suffolk, L.I. 19 September 1903, Lt. Charles P. Nelson in command.

After commissioning, Plunger reported to Naval Torpedo Station, Newport, R.I., and operated in and around Provincetown and Newport. She ran test d ves and did experimental work on machinery, armaments, and tseties giving the Navy invaluable information on the new seienee of submarine warfare. Perhaps her greatest contribution was training her own crew and those of other submarines nearing completion. After overhaul at the Holland Dock from March to November 1904, the boat resumed her testing functions.

President Theodore Roosevelt was so impressed with the new naval weapon that he determined to see it at work in person. With the President on board, Plunger made a test dive on 25 March 1905. Reporting the adventure, Roosevelt declared, "Never in my before have I had such a diverting day. . . nor so much enjoyment in so few hours."

After overhaul at New London, Plunger decommissioned 3 November. She remained in ord nary until recommissioning 23 February 1907, to join the 1st Submarine Flotilla with Porpoise (SS-7) and Shark (SS-8). The boat continued operations with this flotilla along the Atlantic ecaet for the next several years.

In May 1909, Ens. Chester Nimitz, who would win undying fame in World War II as Commander in Chief, Pacific Fleet, took command of the boat. In September, she steamed to New York for the Hudson-Fulton celebration. On 6 November 1909, Plunger decommissoned and went into reserve at Charleston. Aesigned to the Reserve Torpedo Division 12 on 17 April 1910, the boat was re named A-1, 17 November 1911.

A-1 was struck from the Navy List 24 February 1913 and used as a target until sold 26 January 1922.