Nathanael Greene SSB(N)-636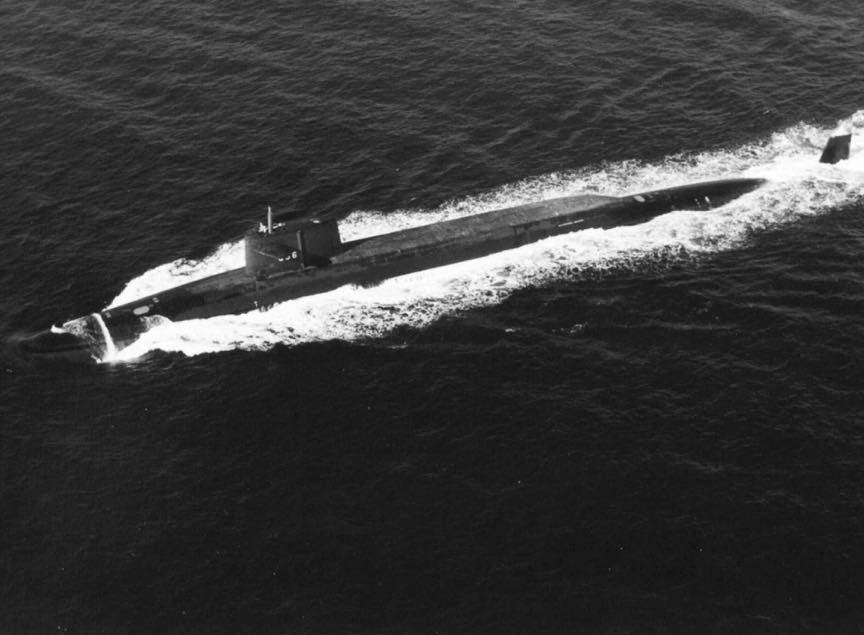 Nathanael Greene
(SSB(N)-636: dp. 7,250 (surf.), 8,250 (subm.),1. 425', b. 33' dr. 31'5"; s. 20+k.; cpl. 168; a. Polaris mist; cl. Lafayette)

Nathanael Greene (SSB(N)-636) was laid down 21 May 1962 at the Portsmouth, N.H., Naval Shipyard: launched 12 May 1964; sponsored by Mrs. Neander W. Wade, a descendent of General Nathanael Greene: and commissioned 19 December 1964, Comdr. Robert E. Crispin and Comdr. William M. Cossaboom in respective command of Blue and Gold crews

Nathanael Greene departed Portsmouth for shakedown, 30 December 1964, with Gold crew embarked. They were relieved 1 February 1965 by Blue Crew. Her shakedown period was followed by availability at Portsmouth, after which the submarine, with Blue Crew embarked, departed Portsmouth for a missile loadout and her initial Polaris deterrent patrol. Rotating her crews at regular intervals, Nathanael Greene has, since that time, conducted deterrent patrols as a unit of the Atlantic Fleet assigned to SubRon 18.
n 1970-1971 Nathanael Greene was refueled and received its conversion to launch Poseidon missiles at Newport News Shipbuilding. Following Yard period and Shakedown, the Greene proceeded to Cape Canaveral for a test missile launch. In March 1972 the Greene departed for her first deterrent patrol following conversion ending up in Holy Loch, Scotland.
In 3 November 1974 Nathanael Greene during departure from Holy Loch was collided with soviet K-306 submarine of Victor-I class.[1] CIA sources claimed that it was James Madison,[2] not Greene.
Nathanael Greene was decommissioned on 15 December 1986 and stricken from the Naval Vessel Register on 31 January 1987.
Nathanael Greene entered the U.S. Navy's Nuclear-Powered Ship and Submarine Recycling Program at Bremerton, Washington, on 1 September 1998. Her scrapping was completed on 20 October 2000.