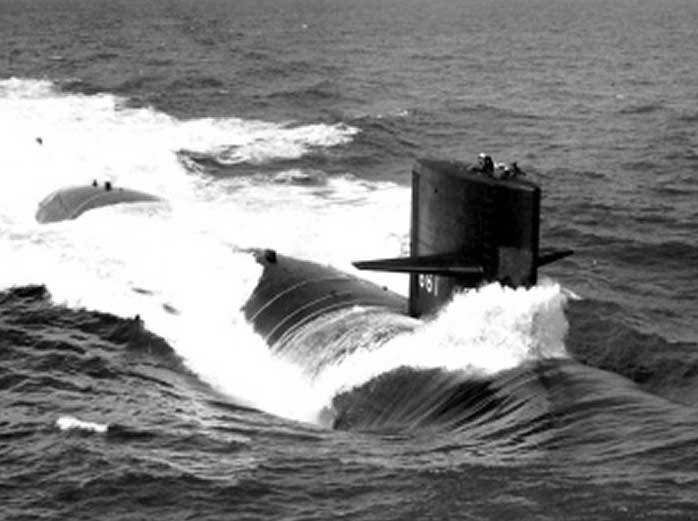 Lapon II
(SSN-661: dp. 4,640; 1. 292'2"; b. 31'7"; dr. 28'8"; colt
107; a. 4 21" tt., SUBROG; cl. Sturgeon)

Lapon was laid down 26 July 1965 by Newport News Shipbuilding & Drydock Co., Newport News, Va.: launahed 16 December 1966; sponsored by Mrs. Gharles D. Griffin; and commissioned 14 Deeem,ber 1967, Comdr. Chester M. Mack in command.

Upon commissioning, Lapon reported to Commander Submarine Force Atlantic Fleet tor duty, with her homeport at Norfolk, Va. She spent most of 1968 going through training programs and cruising along the east coast of the United States. Into 1969, she is preparing for a Mediterranean deployment and will join the 6th Fleet.
In 1969, Lapon participated in a training exercise before CNO, CinCLant and ComSubLant to demonstrate the feasibility of trailing another submarine. Following that exercise Lapon deployed on a second SpecOp and received a second MUC. Later in 1969, while under the command of Commander Chester "Whitey" Mack, Lapon successfully tailed a Soviet Navy Yankee class ballistic missile submarine for a period of forty-seven days. Lapon followed the Yankee for the Yankee's entire deterrent patrol and only broke contact when the Soviet submarine turned to go home. Lapon was awarded a Presidential Unit Citation for the feat and Mack became famous in the submarine community for this noteworthy success, personally receiving the Distinguished Service Medal.
Lapon was on routine deployment in the Mediterranean Sea when the Yom Kippur War broke out on 6 October 1973. Lapon had been scheduled to make a three-day liberty run from La Magdelena, Sardinia to Athens, Greece, but was instead deployed to the eastern Mediterranean were it monitored Soviet submarine activity, remaining at sea for 44 days. Returning to La Magdelena when food stores were so low the crew had begun eating different kinds of meals. Because of the hasty departure when the war broke out, there were only three movies aboard. Two were terrible, and shown only once. The third movie was the 1971 release "Dirty Harry" which was shown twice a day for the entire deployment. Lapon set a record for most Soviet submarines trailed during the period, and the crew was awarded the Navy Unit Commendation.
Deactivated on 1 October 1991 while still in commission, Lapon was decommissioned on 8 August 1992 at the Puget Sound Naval Shipyard at Bremerton, Washington, and stricken from the Naval Vessel Register the same day. Her scrapping via the Nuclear-Powered Ship and Submarine Recycling Program began on 1 March 2003 and was completed on 31 August 2004.