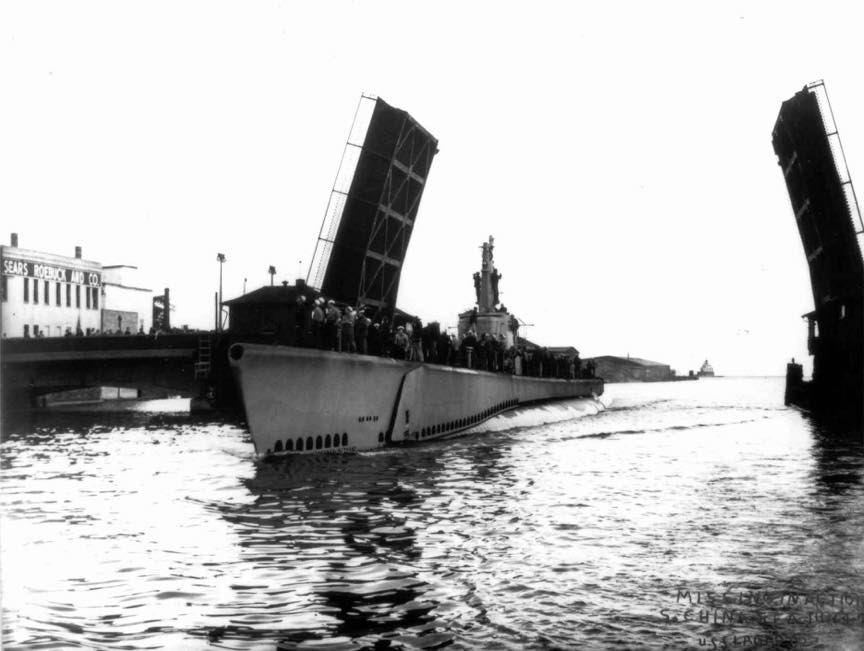 Lagarto
(SS-371: dp. 1,526 (std.), 2,424 (subm.); 1. 311'9", b. 27'3"; dr. 15'3"; s. 20 k. (suri.), 8.5 k. (sublu.); cpl. 66;a.15",1021tt.;cl.Balao)
Lagarto (SS-371) was laid down 12 January 1944 by the Manitowoc Shipbuilding Co., Manitowoc, Wis. launched 28 May 1944; sponsored by Mrs. Paul H. Douglas Congresswoman from Illinois and wife of Capt. Paul H. Douglas, USMCR, (later U.S. Senator from Illinois); and commissioned 14 October 1944, Comdr. F. D. Latta in command.
After trial tests and training in Lake Michigan, Lagarto entered a floating drydock 3 December 1944, was floated down the Mississippi River, and 2 days later departed New Orleans for the Pacific.
Lagarto sailed from Pearl Harbor 7 February 1945 for her maiden war patrol in waters around the Nansei Shoto. In a coordinated attack 13 February with Haddock' (SS-231) and Sennet (SS-408), she engaged four heavily armed picket boats in a gun battle, sank two, and damaged the others. On 24 February Lagarto sank small freighter Tatsumono Maru off Bungo Suido and not long afterward spotted a Japanese submarine. She torpedoed and sank enemy submarine I~71 in a day periscope attack. Lagarto arrived Subic Bay 20 March.
Lagarto departed Subic Bay for the South China Sea 12 April and late in April was directed to patrol in the Gulf of Siam, where Baya (SS-318) joined her 2 May. That afternoon Baya signaled that she was tracking a tanker traveling under heavy escort. That night Baya tried to attack but was driven off by enemy escorts equiped with radar. The two submarines met early next morning to discuss attack plans. Baya made a midnight attack but was again driven off by the unusually alert Japanese escorts. Early next morning, 4 May, when Baya tried to contact her teammate, Lagarto made no reply. Since Japanese records state that during the night of 3-4 May mine layer Hatsutaka attacked a U.S. submarine in that location, it is presumed that Lagarto perished in battle with all hands.
Lagarto received one battle star tor World War II service.