James Madison II SSB(N)-627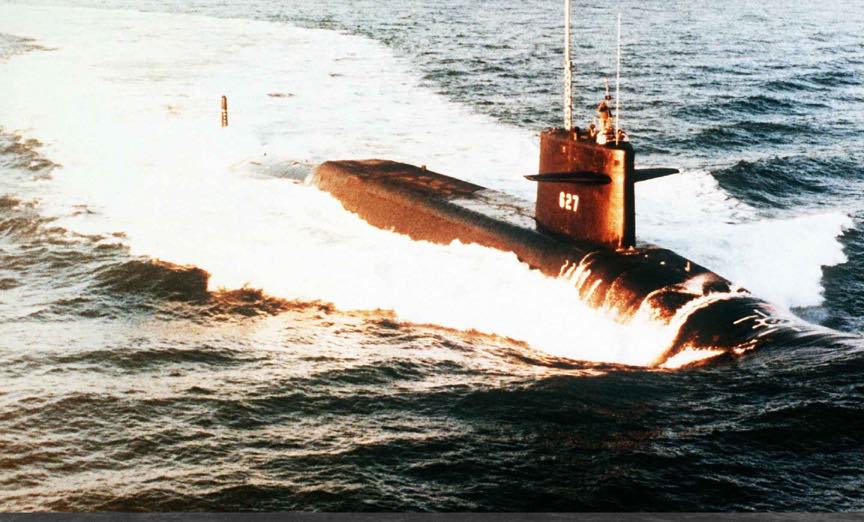 James Madison II

(SSB(N)-627: dp. 7,250; 1. 425'; b. 33'; dr. 31'5"; s. over
20 k.; cpl. 140; a. 16 Poll mist; cl. Lafayette)

The second James Madison ( SSB (N) 627) was launched 15 March 1963 by the Newport News Shipbuilding & Dry Dock Co., Newport News, Va.; sponsored by Mrs. A. S. "Mike" Monroney, wife of U.S. Senator Monroney of Oklahoma; and commissioned 24 July 1964, Comdr. Joseph L. Skoog, Jr. (blue crew), and Comdr. John C. Lewis (gold crew), in command.

The two crews, in turn, conducted shakedown operations at sea. Completely successful launches of' A-3 missiles climaxed the cruise of each team. After post shakedown repairs and modification in November and December of 1964, James Madison sailed for her first patrol 17 January 1965.

Reliability, accuracy, undetected mobility, and instant readiness are the words which characterize Polaris ships and their crews. By the end of 1966, James madison had completed her 10th patrol and she continued to serve in the European area helping to prevent war. Her men may be proud that James Madison—by providing a seagoing platform for weapons, the traditional function of a warship is an instrument of diplomacy and a keeper of the peace.
The inactivation of James Madison at Mare Island Naval Shipyard at Vallejo, California, began on 18 February 1992. She was decommissioned on 20 November 1992 and struck from the Naval Vessel Register the same day, and her inactivation at Mare Island was completed on 8 December 1992. Her scrapping via the Nuclear-Powered Ship and Submarine Recycling Program in Bremerton, Washington, was completed on 24 October 1997.