N-1 SS-53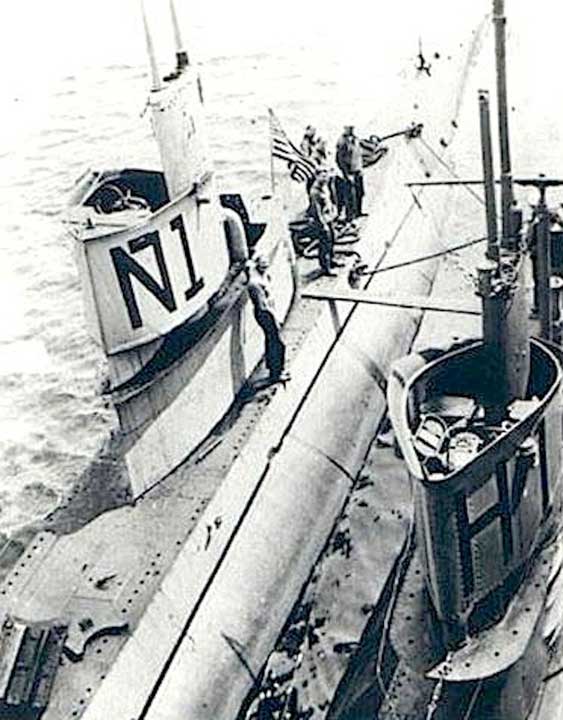 N-1
(SS-53: dp. 348 (surf.), 414 (subm.), 1. 147'3"; b. 15'9"; dr. 12'6"; s. 13 k. (surf.), 11 k. (subm.); cpl. 25; a. 4 18"• tt.; cl. N-l)

N-1 (SS-53) was laid down 26 July 1915 by Seattle Construction and Drydock Co., Seattle, Wash.; launched 30 December 1916; sponsored by Mrs. Guy E. Davis; and commissioned 26 September 1917, Lt. G. A. Trevor in command.

Designed as a coast defense submarine, N-l was fitted out at Puget Sound Navy Yard and then departed 21 November 1917 for San Franciseo in company with her sisters N-2 and N-S. Reassigned to the East Coast, she departed San Francisco 13 December for Balboa, Canal Zone and thence proceeded via Cristobal, C.Z., Jamaica, Key West, and Norfolk, to New London, Conn. arriving 7 February 1918.

Reporting for duty to Commander, 1st Naval District, the submarine began her first patrol 23 June by hunting for a U-Boat reported in the vicinity of Cape Cod. After an intensive but fruitless search, N-l continued her patrol off the New England Coast. For the remainder of the war and until early 1922, N-l continued her operations in the area from New London to Bar Harbor.

Placed in reduced commission 1 May 1922, N-l became a training submarine for the Submarine School New London. She continued this duty until ordered to Philadelphia Navy Yard on 9 December 1925. Arriving at Philadelphia 18 December, she was decommissioned 30 April 1926. Struck from the Naval Vessel Register 18 December 1930, N-l was scrapped in early 1931.ke Island.
With the entry of the United States into World War II Bridge expanded her Pacific voyages to include the Fiji, Tonga, and New Caledonia Islands. Between 10 August and 20 October 1942 she shuttled cargo between San Francisco and Alaska and then returned to the South Pacific. Between October 1942 and April 1943 she carried cargo to the Hawaii, Tonga, Loyalty Islands, and Samoan Islands. From 2 April until 3 July 1943 she ferried supplies between Nouméa, New Caledonia, and Auckland, New Zealand. In July she steamed to San Francisco and thence to Alaska where she operated until October. She returned to Pearl Harbor on 3 November and operated between the Hawaiian and Ellice Islands until April 1944. Between 19 April 1944 and 27 April 1945 Bridge operated exclusively between Pearl Harbor and the Marshall Islands. During 9–22 May and 11 July-13 August 1945 she landed supplies at Okinawa, returning to Pearl Harbor each time.
On 10 October 1945 Bridge departed Pearl Harbor and steamed to Japan, via Okinawa, for occupation duty. While operating off Korea on 1 November, she struck a mine and suffered considerable damage but no personnel casualties. Towed to Japan on 21 November by USS Sioux (ATF-75), she underwent repairs at Sasebo until January 1946. Bridge remained on occupation duty until June 1946. She was decommissioned at Sasebo on 27 June 1946; turned over to the Foreign Liquidation Commission for disposal; and sold at Manila, Philippine, on 22 December 1947.
Bridge received one battle star for her World War II service.