Los Angeles SSN-688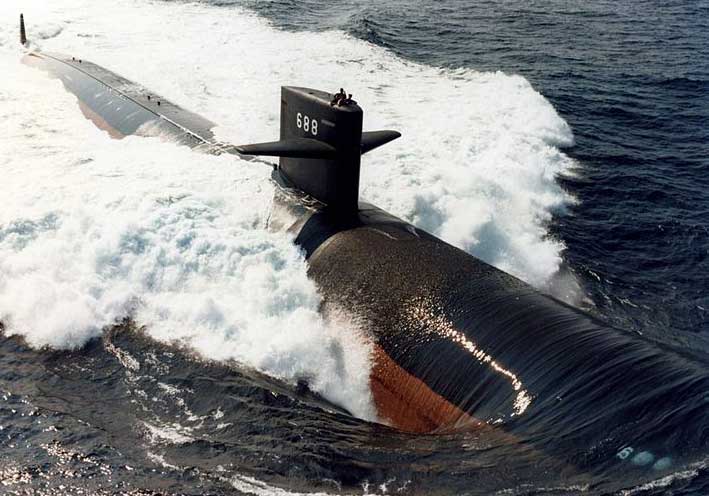 Los Angeles Class Attack Submarine: Laid down, 21 February 1976, at the Electric Boat Division of General Dynamics Corp., Groton, CT.; Launched, 18 November 1978; Commissioned, USS Jacksonville (SSN-699), 16 May 1981. Jacksonville is assigned to the US Atlantic Fleet and is homeported at Norfolk, VA.
(SS(N)- 688; Displacement, Surfaced: 6,000 t., Submerged: 6.927 t.; Length 360'; Beam 33'; Draft 29'; Speed, Surfaced 25 kts, Submerged 30+ kts; Depth limit 950'; Complement 129; Armament, four 21" torpedo tubes aft of bow can also launch Harpoon and Tomahawk ASM/LAM missiles & MK-48 torpedoes; Combat Systems, AN/BPS-5 surface search radar, AN/BPS-15 A/16 navigation and fire control radar, TB-16D passive towed sonar arrays, TB-23 passive "thin line" towed array, AN/BQG-5D wide aperture flank array, AN/BQQ-5D/E low frequency spherical sonar array, AN/BQS-15 close range active sonar (for ice detection); MIDAS Mine and Ice Detection Avoidance System, SADS-TG active detection sonar, Type 2 attack periscope (port), Type 18 search periscope (starboard), AN/BSY-1 (primary computer); UYK-7; UYK-43; UYK-44, WLR-9 Acoustic Intercept Receiver, ESM; Propulsion System, S6G nuclear reactor one propeller at 35,000 shp.)
Los Angeles made her first operational deployment to the Mediterranean Sea in 1977 and was awarded a Meritorious Unit Citation. In 1978, she transferred to the Pacific Fleet and was assigned to Submarine Squadron 7, homeported in Pearl Harbor. She conducted 17 Pacific deployments over the next 32 years and earned eight Meritorious Unit Citations and a Navy Unit Citation. Los Angeles participated in four multinational "Rim of the Pacific" (RIMPAC) exercises, and visited numerous foreign ports in Italy, Republic of the Philippines, Diego Garcia, Hong Kong, Mauritius, Australia, Japan, Republic of Korea, Canada and Singapore.[2]
In 1999, Los Angeles was modified to carry a Dry Deck Shelter (DDS). Her capabilities included undersea warfare, surface warfare, strike warfare, mining operations, special forces delivery, reconnaissance, carrier battle group support and escort, and intelligence collection.
Los Angeles was inactivated on 1 February 2010 and decommissioned 4 February 2011.