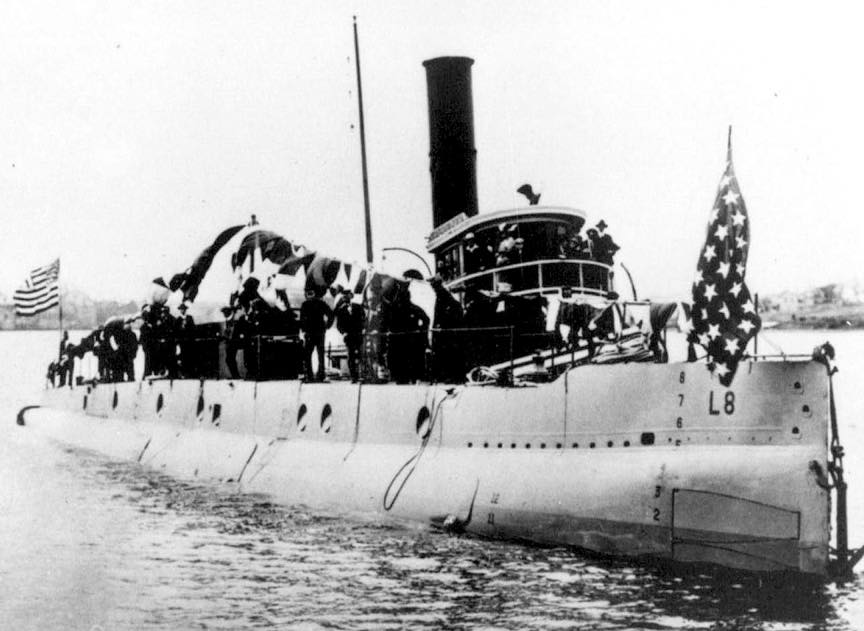 L-9
(SS - 9: dp. 450 (surt.), 548 (subm.); 1. 167'5"; b. 17'5''
dr. 13'7"; s. 14 k. (surf.), 10.K. (subm.);cpl. 28; A.
1 3", 4 18" tt.; cl. L-l)
L-9 was laid down 2 November 1914 by Fore River Shipbuilding Co., Qoincy, Mass.; launched 27 October 1915; sponsored by Miss Heather Pattison Baxter, anti eolllmissioned 4 August 1916, Lt. (jg.) P. T. Wright in command.
Assigned to the Atlantic Submarine flotilla, L-9 operated along the Atlantic coast until April 1917 developing new techniques of undersea warture.
Following America's entry into World War I, submarines were needed to protect Allied shipping lanes to Europe. After an extensive overhaul preparing her for the task ahead, L-9 departed Portsmouth, Va., 17 January 1918 und arrived Bantry Bay, Ireland, 21 February. She remained in British waters throughout the war, and, although she sank no enemy submarines, L-9 and sister submarines were effective in hampering German U-boat operations
After the Armistice 11 November, I-9 operated out of Portland, England, until she sailed 3 January 1910 for the United States. Arriving Philadelphia 1 February, the submarine operated along the Atlantic coast for the next 4 years developing submarine warfare tactics. L-9 decommissioned at Hampton Roads, Va., 4 May 1923 and was scrapped 28 November 1933.