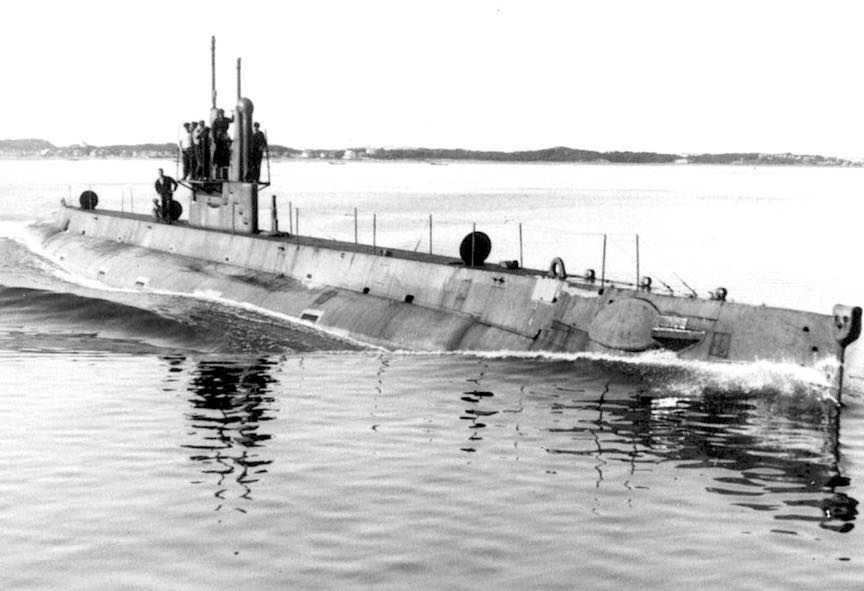 L-8
(SS-48: dp. 456 (surf.), 524 (subm.); 1. 165'; b. 14'9"; dr. 13'3"; s. 14 k. (surf.), 10.5 k. (subm.); cpl. 28; a.1 3", 4 18" tt.; cl. L-1)
L-8 (SS-48) was laid down 24 February 1915 by Portsmouth Navy Yard, Portsmouth, N.H.; launched 23 April 1917; sponsored by Miss Nancy Gill; and commissioned 30 August 1917, Lt. J. Parker, Jr., in command.
Following training operations along the east coast, L-8 prepared for European service. Departing Charleston, S.C., 20 October, the submarine steamed for the Azores to Join
Submarine Division 6 in ASW patrols. She arrived Bermuda 13 November, 2 dayfs after the end of World War I, and was ordered to return to the United States.
After exercises and visits in Caribbean and Central American ports,L-8 arrived San Pedro, Calif., 13 February 1919 to join the submarine flotilla on the west coast. Remaining there trom 1919 to 1922, she experimented with new torpedoes and undersea detection equipment which strengthened the peacetime capabilities of the Navy. Following a period of commission in ordinary early in 1922, L-8 departed San Pedro 25 July for the Atlantic, arriving Hampton Roads, Va., 28 September. The submarine decommissioned there 15 November 1922 and was sold 21 December 1925 and scrapped.