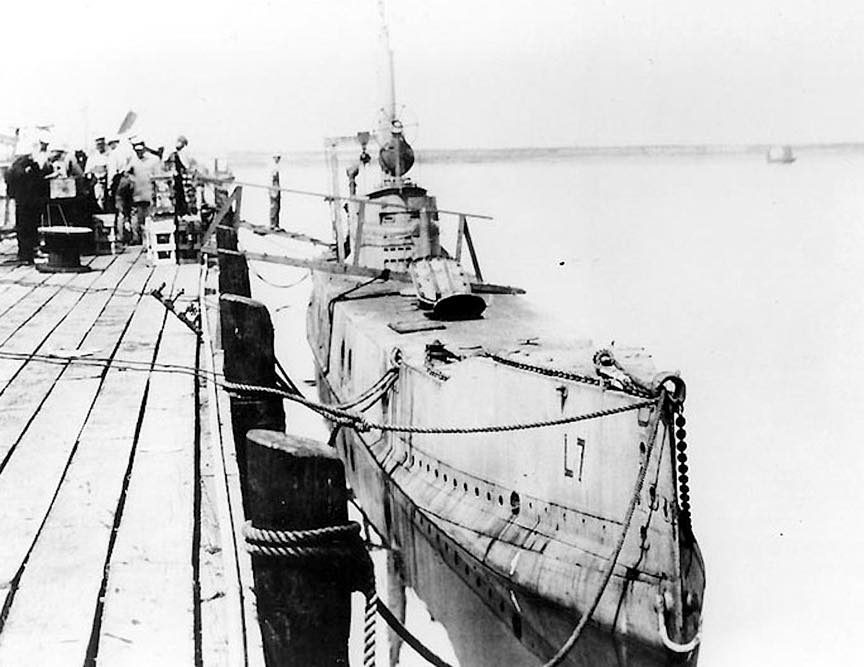 L~7
(SS-46: dp. 456 (surf.), 425 (subm.); 1. 165'; b. 14'9";
dr. 13'3"; s. 14 k. (surI.), 10.5 k. (subm.); cgl. 28; a.
1 3", 4 18" tt.; cl. L-5)
L-7 (SS-46) was laid down 2 June 1914 by Craig Ship. building Co., Long Beach, Calif.; launched 28 September 1916, sponsored by Mrs. William B. Forgarty; and commissioned 7 December 1917, Lt. P. M. Bates in command.
After shakedown, L-7 departed the west coast 20 April 1918, arriving Charleston, S.C., 10 June. Patrolling out Charleston until 16 October, the submarine flnally steamed tor the U-boat infested waters of Europe. Arriving Ponta Delgada, Azores, early in November, she joined Submarine Division 6 for antisubmarine warfare operations. However, the Armistice of 11 November 1918 ended World War I, and L-7 sailed for home on the 19th.
Following stops at Caribbean and Central American ports, the submarine arrived San Pedro, Calif., 14 February 1919, completing one ol the best long distance seagoing performances of America's youthful submarine force. From 1919 to 1922, she remained on the west coast, experimenting with new torpedoes and undersea detection equipment. After a period of commission in ordinary early in 1922, L~7 was returned to full commission 1 July and sailed for Hampton Roads, Va., the same month. She decommissioned there 15 November 1922 and was sold 21 December 1925 to M. Samuel & Sons for scrapping.