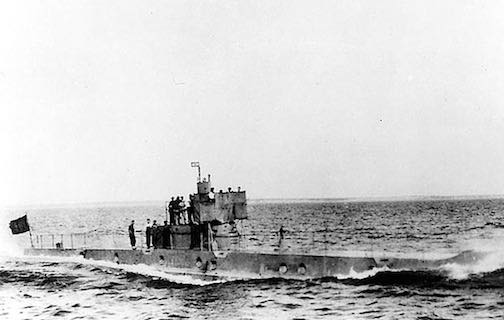 L 5
(SS-44: dp. 456 (surf.), 524 (subm.); 1. 165'; b. 14'9";
dr. 13'3" s. 14 k. (surf.), 10.5 k. (subm.), cpl. 28, a.
13", 418' tt.;cl.L-5)
L-5 (SS-44) was laid down 14 May 1914 by Lake Torpedo Boat Co., Bridgeport, Conn.; launched 1 May 1916; sponsored by Mrs. Rosalind Robinson; and commissioned 17 February 1918, Lt. J. M. Deem in command.
.\After exercises along the Atlantic coast, L 5 departed Charleston, S.C.. 15 October 1918 with Submarine Division ff and reached the Azores 7 November. Following the Armistice 11 November, L-5 headed west arriving Bermuda 1 December. She participated in exercises in the Caribbean before ~teaming on to San Pedro, Calif., where she arrived 13 February 1919.
From 1919 to 1922, she remained on the west coast experimenting with new torpedoes and underseas detection equipment. 1~5 departed San Pedro 25 July 1922; and, after visits in Mexico, Nicaragua, and the Canal Zone, she arrived Hampton Roads, Va., 28 September. The submarine remained there until she decommissioned 5 December 1922. She was sold 21 December 1925 to Passaic Salvage & Reclamation Co., Newark, N.J., and scrapped.