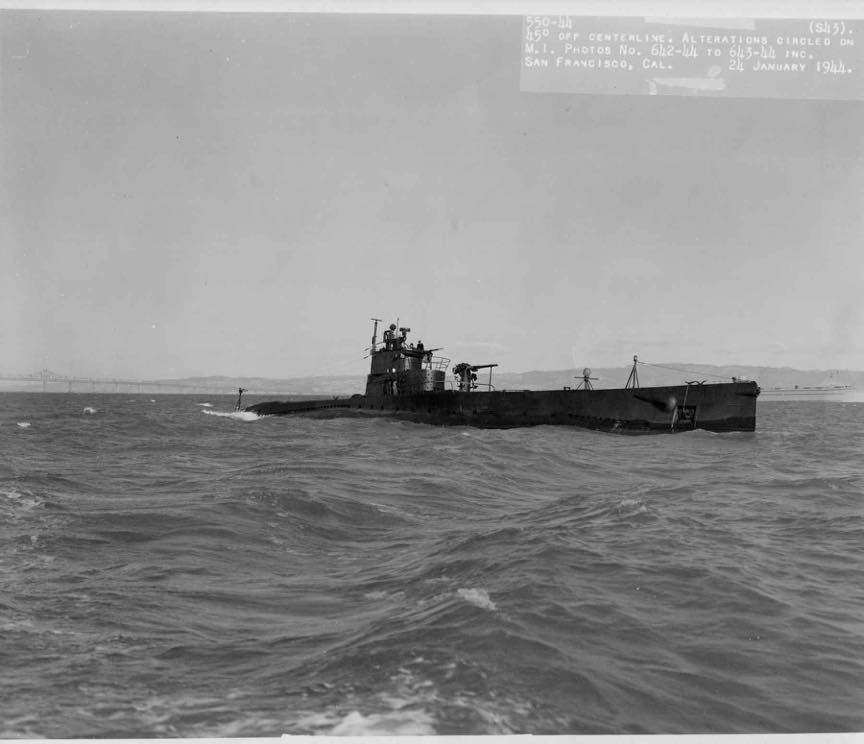 L 4
(SS-43; dp. 450 (surf.), 548 (subm.), 1. 107'5", b. 17'6"
dr. 13'7"; s. 14 k. (surf.), 10.5 k. (subm.); cpl. 28; a. 13", 418" tt.; cl L-I )
L-4 ( SS-43 ) was laid down 23 March 1914 by Fore River Shipbuilding Co., Quincy, Mass.; launched 3 April 1915; sponsored by Mrs. Stephen A. Gardner; and commissioned 4 May 1915, Lt. (ig.) Lewis Hancock, Jr., in command.
Assigned to the Atlantic Submarine Flotilla, L-4 operated along the Atlantic coast, assisting in the development of new techniques in undersea warfare until April 1917.
Following the declaration of war on the Central Powers, the U.S. Navy dispatched submarines to European waters to protect the Allied shipping lanes. After a Philadelphia overhaul, ~L4 departed Newport, R.I., 4 December and
steamed for the Azores. She departed Ponta Delgada 19 January 1918, arriving for patrol operations at Berehaven, Ireland, 27 January. While on patrol during April, L-4 twice encountered enemy U-boats in British waters and chased them from the paths of friendly convoys.
Based at Berehaven for the rest of the war, U.S. submarines were effective in reducing Allied shipping losses from German U-boat attacks. Following the Armistice, L-4 departed Portland, England, 3 January 1919 for the United States, arriving Philadelphia 1 February.
For the next 2 years the submarine operated along the east coast performing valuable experiments developing the tactics of undersea warfare. L-4 decommissioned at Philadelphia 14 April 1922 and was sold to Pottstown Steel Co., Douglasville, Pa., on 31, July 1922 for scrapping.