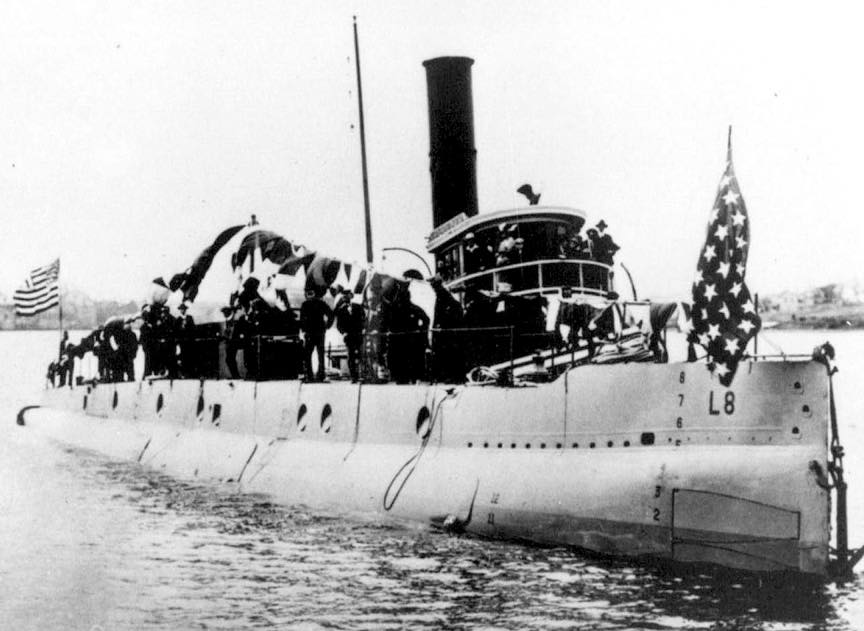 L-10
(SS-50: dp. 450 (surt.), 548 (subm.), l. 167'5", b. 17'5"; dr. 13'7"; s. 14 k. (surf.), 10.5K. (subm.);cpl. 28;a.13",418"tt.;cl.L-1)
L-10 was laid down 17 February 1915 by Fore River Shiphuilding Co., Quincy, Mass.; launched 16 March 1916; .sponsored by Miss Catherine Rush; and commissioned 2 August 1916, Lt. (jg.) J. C. Van de Carr in command.
Assigned to the Atlantic Submarine Flotilla L-10 operated along the east coast until April 1917 developing new techniques for under sea warfare.
Followng America's entry into World War 1, submarines were needed to protect Allied shipping lanes to Europe. After an extensive overhaul preparing her for the task ahead, L-10 departed Newport. R.I., 4 December, Reaching the Azores on the 19th. She patrolled waters off the Azores tor the next month before joining Submarine Division 5 in the British Isles in January 1918. Based in the United Kingdom throughout the rest ot the war,L-10 and the other ships of her division were effective in hampering U-boat operations.
After the Armistice 11 November, L-10 remained in England until sailing for the United States 3 January 1919. Arriving Philadelphia 1 February, the submarine operated along the Atlantic coast for the next 4 years, developing submarine warfare tactics. L-10 decommissioned at Philadelphia 5 May 1922, and was sold 31 July 19 to Joseph G. Hinter Of Philadelphia.