Chopper SS-342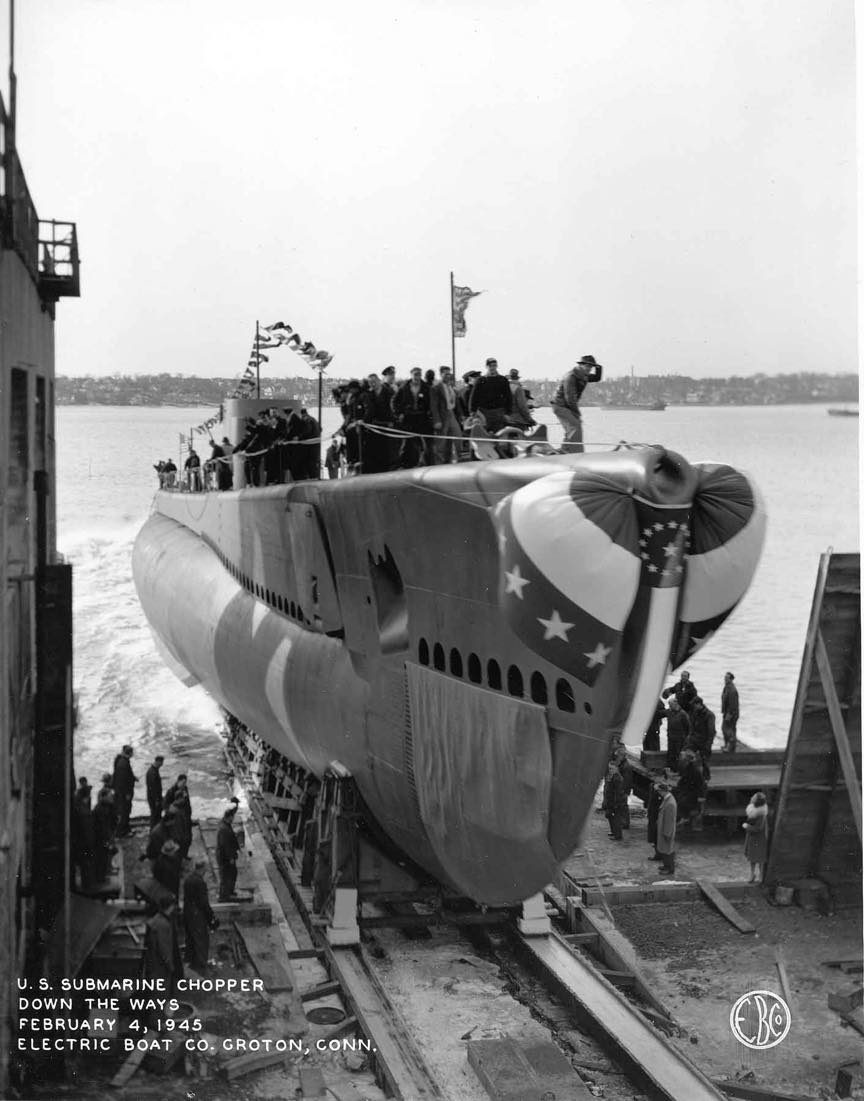 Chopper

A fish common in the rivers of the Mississippi Valley.

(SS-342: dp. 1,626; 1. 311'9"; b. 27'3"; dr. 16'3"; s. 20
k.; cpl. 66; a. 10 21" tt.; cl. Gato)

Chopper (SS-342) was launched 4 February 1946 by Electric Boat Co., Groton, Conn.; sponsored by Mrs. G. S. Beebe, and commissioned 26 May 1945, Lieutenant Commander S. Filipone in command.

Chopper sailed from New London 4 July 1946 for Pearl Harbor, where she lay from 21 September until 24 October. On 30 October she arrived at San Diego, her assigned home port. She sailed 2 January 1946 for the Philippines, where she trained and offered local services until 11 May when she returned to San Diego and began local operations. Her next deployment, a simulated war patrol to China, took place from 28 July 1947 to 9 November. After west coast operations through 1948 she departed San Diego 14 March 1949 for her new home port, Key West, arriving 4 April. Operations in Florida waters and the Caribbean were conducted until 16 September 1950, when she entered the Electric Boat Co. yards for modernization. She returned to Key West for fleet exercises and training 23 May 1951.

Chopper departed Key West 7 January 1952 for a tour of duty in the Mediterranean until 20 May. She resumed local operations, then joined in North Atlantic Treaty Organization operations in the Atlantic between 12 September and 14 October 1952. Frequent trips to Guantanamo, and local operations continued until 25 May 1959 when she sailed to join in special exercises in the Mediterranean until returning to Key West 9 August. Through 1960, she continued operations off Florida and in the Caribbean, often acting as target for surface ships in training.