USS Panther AD-6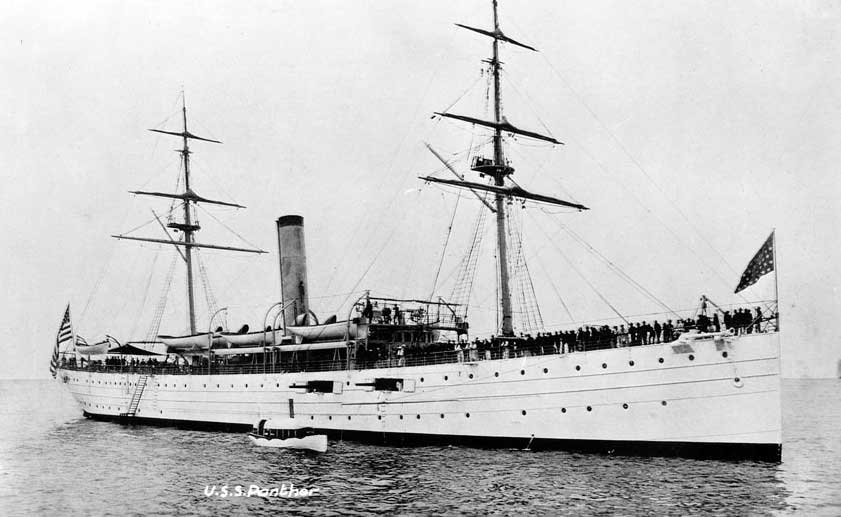 Panther

AD-6: dp. 4,260; 1. 324'4"; b. 40'6"; dr. 18'2~" s. 13 k.;
cpl. 138; a. 6 5", 2 4", 6 3-pdrs., 1 colt, 1 3/' how.)

The first Panther, the former Austin, an auxiliary cruiser built by William Cramp and Sons, Philadelphia, Pa. in 1889, was purchased by the Navy from Red D Line Steamship Co. 12 April 1898, and commissioned at New York 22 April 1898, Comdr. George C. Reiter in command.

Panther was pressed into service immediately after commissioning as war broke out between the United States and Spain. In April, Panth~r joined the North Atlantic Fleet, portions of which blockaded Cuba throughout the conflict.

Admiral Sampson received word from Key West early in May that Cervera's squadron was very likely at Santiago. Panther and other ships of the Amer~can fleet patrolled off that port until she steamed to Guantanamo 11 June with 646 marines, who landed at Caimanera and entrenched themselves in preparation for the ensuing battle. Panther withdrew to her former position with the fleet in the successful campaign at Santiago. After the destruction of the Spanish fleet, Panther steamed to Ncw York, to cruise between New York, Boston, Norfolk, and Portsmouth until 20 October 1899, when she went into ordinary at Philadelphia.

She remained in ordinary until recommissioning 19 June 1902, when she fitted out as a training ship. In July, she steamed to New York to begin operations with various state militias. In this connection, she embarked crews from New Jersey in July, Pennsylvania in early August, and Connecticut later that month. In 1902, disturbing conditions in the West Indies and Caribbean required the constant presence of U.S. ships to maintain order and preserve U.S. treaty rights. In September 1902, Panther embarked a Marine battalion and departed for Caribbean waters to serve as a station ship to protect American interests during unrest in Honduras. She continued with the Caribbean Squadron until 21 October 1903, when she decommissioned at Philadelphia.

Panther recommissioned 18 November 1907 to serve as auxiliary repair ship for the North Atlantic Fleet until April 1917. She sailed for Brest 1 July to serve as tender for the U.S. destroyer force throughout World War I. After the war her duties took her to ports such as Kirkwall, Scotland Davenport, England, Lisbon, and Ponta Delgada.

In 1921, American interest shifted to China; the Navy's Yangtze River Patrol had operated there for some years, guaranteeing the prevention of strife and the protectmn of persons and interests in the region. Panther joined the Asiatic Station, ready to defend U.S. interests in maritime affairs, on the other side of the globe. She continued her duties on station until 1922, when she returned stateside to decommission in May. She subsequently was sold to Tioga Steel Co., Philadelphia, 24 March 1923.