1988 Elections Bush vs Dukakais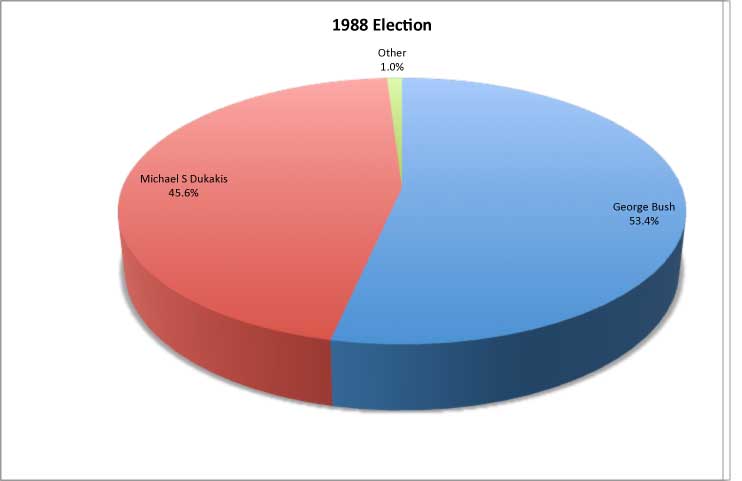 Vice President George H. W. Bush faced challenges from both Senator Dole and Reverend Pat Robertson. While Bush finished an embarrassing third place in Iowa, he recovered. Bush forced his opponents to withdraw after he won most of the contests on Super Tuesday. Thus, Bush was unopposed at the Republican convention in New Orleans. The only matter of contention at the 1988 Republican convention was Bushís decision to select Senator Quayle to be his running mate. This decision was widely criticized. Governor Michael Dukakis of Massachusetts quickly became the Democratic front-runner. Gary Hart withdrew due to allegations of sexual improprieties, and Mario Cuomo, of New York, refused to run. One by one, Dukakis' opponents withdrew. When the convention took place in Atlanta, only Jesse Jackson remained. Dukakis won on the first ballot, after receiving 2,876 votes, compared to Jacksonís 1,218. Dukakis chose Senator Lloyd Benson of Texas as his vice-presidential running mate.
When the campaign began, Governor Dukakis held a clear lead over Vice President Bush. Then, the Republicans successfully attacked Dukakis in several ways. One of the most notable criticisms was an attack on Dukakis surrounding the furlough release of Willie Horton, an African American convicted of murder. Horton was released on a weekend furlough from prison while Dukakis was governor. Bush stated: "Don't let murders out on vacation to terrorize innocent people... Dukakis owes the people an explanation of why he supported this outrageous program".
The Republicans then went on to sponsor a series of television ads with pictures of Horton and the related crime scenes, claiming it was Dukakis who had let that happen. The fact that Dukakis' Republican predecessor started the program, and that while President Reagan had been governor of California it had been instituted there as well, was not mentioned. This and other attack ads were very effective. Governor Dukakis was not a very effective campaigner. He hurt his campaign badly when, at a debate, Dukakis stated he would not advocate the death penalty for someone who had raped and murdered his wife. Consequently, George Bush won by a large margin.