1980 Elections Carter vs Reagan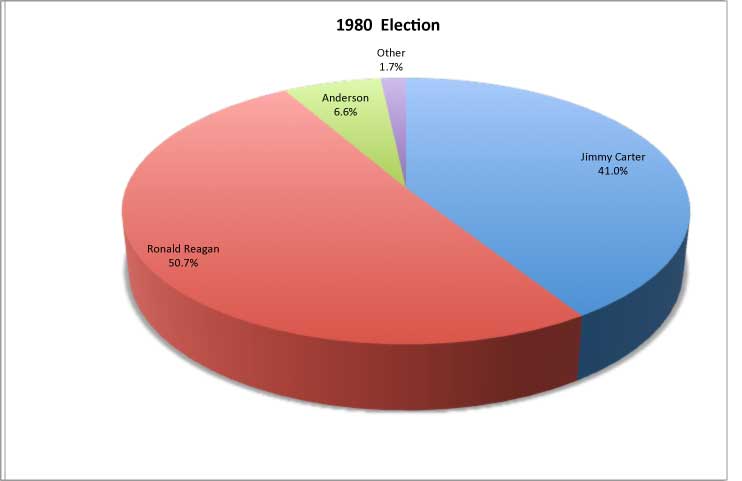 Governor Reagan ran in all the republican primaries winning against Howard Baker, John Connally, and Robert Dole, and finally George Bush. Reagan entered the Republican convention in Detroit with the nomination sewed up. President Carter was renominated at the Democratic convention in New York, after turning back a challenge from Senator Teddy Kennedy.
John Anderson ran as the first serious third party candidate since Henry Wallace in 1948. Reagan campaigned for smaller government. He was an effective campaigner but made several severe mistakes on the campaign trail that ultimately forced the campaign to limit his access. Carter, on the other hand, attacked Reagan and was soon accused of being a "mean" campaigner.
There were very clear issues dividing the candidates in the campaign of 1980. Carter supported the Equal Rights Amendment, while Reagan opposed it. Reagan opposed S. A.L. T. II, while Carter supported it. Carter called for a national health insurance program. President Carter and Reagan participated in a highly anticipated debate. Reagan did well in the debate, satisfying many that he was capable of being Commander in Chief. (watch the full debate below)
Ultimately, however, it was not these issues but the twin issues of the American Hostages in Iran and what the Republicans called the misery index (inflation plus unemployment) ended Carter's chance of being re-elected.